Jelly Beans and Beef Jerky: Gift from Alumnus to Create New Scholarship
The Mark Presky and Marsha Saltman Biological Sciences Scholarship to launch in 2023
Mark Presky ('73, B.S. Biological Sciences; '74 M.A. Microbiology) didn't plan to give to the university. As an undergraduate, he fell into a unique category: his parents made enough to send him to college, but too much for him to be eligible for financial aid or scholarships. And, with two other children at UC campuses, his family was strapped. As a result, Presky found himself having to watch every penny.
"I remember one finals week," said Presky, "when I subsisted on a bag of jellybeans and a package of beef jerky. Probably not the best diet," he says with a laugh.
Despite the challenges he faced, Presky still made the most of his days as an Aggie. In fact, in his first year he was on the board of directors of Switchboard, which served as a kind of 24-hour information service for students who called in with questions about everything from the names of the seven dwarves to their physics homework. "It was kind of like an early Wikipedia," said Presky. "I really enjoyed helping people."
A "regular" job
Following his interests has served Presky well. After 43 years as a clinical lab scientist, he returned to school to study financial planning through the UCLA Anderson School of Management. Even before that, he'd always been careful, he says, to live within or below his means. As a result, by the time he reached his sixties he was, as he puts it, "more than financially secure."
"It was easier for me to save and invest," Presky said. "I didn't have children to raise or put through college." He's careful to acknowledge that his money isn't the result of an ultra-high-paying job. "I wasn't a doctor, lawyer or businessman. I wasn't even management. I just worked a regular job."
A full-circle gift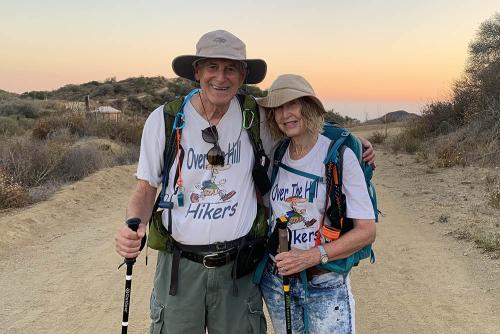 After retiring in 2018, Presky was contacted by the College of Biological Sciences. What followed has been a lengthy and fruitful relationship, culminating in a surprising reversal of sentiment: Presky has made a gift to the College of Biological Sciences to create the Mark Presky and Marsha Saltman Biological Sciences Scholarship, which will help ensure that CBS students who have needs can meet them.
"Mark Presky's gift is a testament to the power of a UC Davis education," said Mark Winey, dean of the College of Biological Sciences. "Like so many, his support of future generations speaks to the impact UC Davis has on a student's life. Because of Mark's generosity, students here now and in the future will receive support that is critical to their success both in and out of the classroom."
"I want to help students who are in positions like the one I was in," said Presky. "I remember what it felt like to slip through the cracks. I wasn't eligible for financial aid. There are still students like this today. The college mapped out a way that I could help them." The Mark Presky and Marsha Saltman Biological Sciences Scholarship will begin in 2023 and continue in perpetuity.
Presky's gift to UC Davis supports its $2 billion fundraising campaign, Expect Greater: From UC Davis, For the World, the largest philanthropic endeavor in university history. Together, donors and UC Davis are advancing work to prepare future leaders, sustain healthier communities, and bring innovative solutions to today's most urgent challenges.
A commitment to service
Though Presky resists being called a philanthropist, the trend of providing support is evident in both his professional and personal life. In fact, together with his wife Marsha Saltman, whom he married in his backyard during the COVID lockdown – the first marriage for both of them – he supports the World Wildlife Fund, The Nature Conservancy, and participates actively in efforts that meet the needs of those in his community.
"Seniors – a group that I admit I'm part of, though not so old ­– often struggle with technology," said Presky. "What's intuitive to someone younger can be baffling to them. What's a 'browser'? How do you get and open an app? Where can older people go to get this information?" The answer was in one of his local newspapers, in which Presky wrote a column for seniors and others in his community who had questions about technology.
At this point in his life, Presky said, he's thinking about what he'll leave behind. His legacy.
"Marsha and I don't have children," said Presky. "We were fortunate to find each other late in life, to have had successful careers and be financially sound. If I can help students who are in the position today that I was in 50 years ago, that's a good thing."
Primary Category
Tags