A Life of Movement: Remembering Professor Emeritus Edmund Bernauer
The University of California flag was flown at half-staff at the Memorial Union, Mark Hall and the UC Davis Airport recently to honor the memory of Professor Emeritus of Neurobiology, Physiology and Behavior Edmund Bernauer. Born on Sept. 27, 1926, Bernauer passed away on Aug. 12, 2021, at the age of 94. 
Bernauer was a pioneering figure in academia, policy and industry. He developed the Human Performance Lab at UC Davis, created curricula for physical education and exercise science programs on campus, designed physical standards for fitness, and conducted research on the effects of microgravity on the human body for NASA, among many other accomplishments. A fellow of the American College of Sports Medicine, he studied everything from exercise metabolism and cardiac function to the effects of environmental conditions like high altitude on the human body during exercise.
"He was so proud to be affiliated with the University of California," said Bernauer's wife Jeanne Bernauer. "I was grateful the campus recognized him because his heart was there all the time."
From humble beginnings
Bernauer spent his youth in Chicago enamored with physical movement. Whether it was drumming or running loops around the track field, he gravitated towards physical activity. After graduating from high school in 1944, he joined the U.S. Navy and was stationed on the USS CARD and in Guam.  
Following his service, Bernauer attended Indiana University Bloomington. He turned an academic eye towards his childhood passion for sports and exercise by majoring in physical education. He earned a B.S. in Physical Education in 1950, then went on to obtain a M.S. in Physical Education and another in Physiology at the University of Illinois, Urbana. His research focused on environmental physiology, nutritional exercise, environmental ketosis and the mechanisms of heat acclimatization. In 1962, he earned a Ph.D. in Physiology-Physical Education.   
In addition to his research at the University of Illinois, Urbana, Bernauer coached the university's cross country and track teams, leading them to eight Big Ten Championships in the span of nine years.
Though he enjoyed coaching, Bernauer pivoted his professional ambitions towards physical education and exercise physiology research. Shortly after earning a Ph.D., he joined the UC Davis faculty as an assistant professor in the Department of Physical Education.  
The UC Davis years
When Bernauer arrived at UC Davis, the campus was in the midst of developing its Department of Physical Education. The program eventually evolved into the Exercise Science program before morphing into the Exercise Biology program.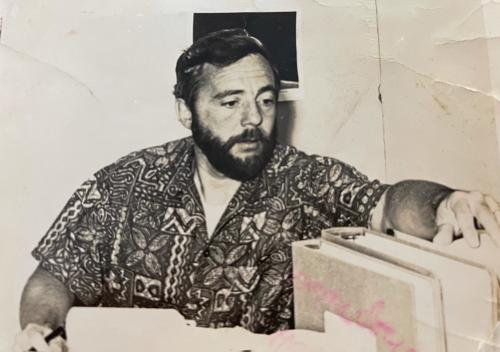 "When I came here to Davis in '62, they were just in the process of building the new addition to Hickey Gym," Bernauer recalled in a 2003 interview.
"And they had done a nice job of anticipating space for a laboratory," he added.
Employing the expertise he accrued at the University of Illinois, Urbana and an investment from Chancellor Emil Mrak, Bernauer turned that 6,800 square-foot space into the Human Performance Laboratory, a facility that still exists to this day.
In addition to establishing the lab, Bernauer developed undergraduate and graduate curricula for the Department of Physical Education. The topics of his courses ranged from exercise physiology to fitness in the workplace.
"He was what I like to call a renaissance man," said Jeanne Bernauer, who recalled accompanying her late husband on trips to Tahoe, where he'd conduct research on training at high altitude. "He always had a lot of interests and the lab was his love." 
Bernauer's comprehensive understanding of exercise physiology led to his involvement in assisting numerous state agencies, including the California Highway Patrol and the Justice Department, with the development of standardized tests and physical standards of fitness for their officers and employees.
He also established a working relationship with the NASA-Ames Research Center, conducting research on the effects of microgravity on the human body and exercise capacity in space. Using bed rest as a simulation for space, he investigated how prolonged inactivity affects the human body. Ultimately, he found that participants experienced a significant regression in cardiovascular fitness.
The research also led to NASA discovering that the foam rubber material used in seating and other materials inhibited astronauts' peripheral blood flow, according to Jeanne Bernauer.
A true passion for education
After retiring in 2001, Bernauer spent the latter years of his life in Hawaii. Not one for idle hands, he continued his involvement in education while living in the 50th state. He got involved with Windward Community College, which is part of the University of Hawai'i System. There, he launched classes in anatomy and physiology and a veterinary technician program.
Despite a literal ocean of separation, Bernauer never forgot his UC Davis roots. According to Jeanne Bernauer, he never missed a chance to weave the University of California into his conversations.
"He knew so many people and he would be so charming and tell stories and had such a good wit, and a very bright mind," said Bernauer. "We laughed and had so much fun."
'I wish he could've lived longer because he had ideas for so many other things he wanted to do," she added. "He never ran out of wanting to teach."
Media Resources
Primary Category
Tags