Students Collect Samples at Arboretum to Measure Water Quality
Data will help managers better understand the arboretum waterway
The Arboretum and Public Garden at UC Davis is about to get a fresh set of water quality data after students fanned out earlier this month along the Arboretum Waterway to measure salinity and fecal coliform levels.
The three-hour session began with a lecture, then moved to the Arboretum for sampling and back to a lab to analyze what students collected. The information will be shared with Arboretum management to help provide a glimpse into the health of the creek.
The Waterway – a disconnected section of Putah Creek – offers a chance for students to understand urban waterways and the challenges posed by road runoff, bacteria, chemicals and other pollutants, said Brett Poulin, an assistant professor in the Department of Environmental Toxicology.
"At times you go by, and you have this nice, clear water, and at other times we have this algae in the water," Poulin said.
He joined with Laci Gerhart, an assistant professor of teaching in the Department of Evolution and Ecology, who teaches EVE016, or Wild Davis, which offers students the chance to learn about community science and the urban ecology and natural history of Davis.
"This is a really important issue to the Arboretum's water quality manager," Gerhart told the class. "They are very interested in whatever we can do to get more details about what is happening."
The professors chose salinity and fecal coliform because they can easily be measured by students with no lab or field experience and are representative of living things, such as plants and animals, and non-living, such as water and atmosphere, that affect water quality. Fecal coliform comes from animal waste and is commonly found in natural and urban waterways, Poulin said.
Longtime outdoor laboratory
The 100-acre Arboretum was established more than 80 years ago to serve as a teaching and learning resource. It has over 20 different gardens and serves as living lab to study ecology, sustainable horticulture and other subjects. The Waterway is also a key resource for managing storm water.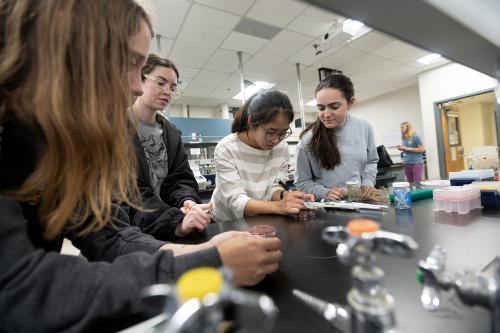 The EVE016 class is a great way for students to learn hands-on science while benefiting the community, said Nina Suzuki, waterway steward for the UC Davis Arboretum and Public Garden. The student's efforts, she said, will contribute to what is known about the Waterway.
"Ongoing data collection is helpful in terms of knowing what the baseline or typical conditions are and then also noticing if there are changes that might signal a problem," Suzuki said.
Gerhart and Poulin hope to expand this one-time session into a recurring first-year seminar offered three quarters each year to help introduce to field work, data collection and analysis while also supporting the Arboretum. Quarterly consistent data "starts to give us a broader snapshot of what is happening," Gerhart said.
Data analysis
First-year through graduate students from both the College of Agricultural and Environmental Sciences and College of Biological Sciences participated in the Arboretum sampling. For Victoria Roberts, a fifth-year student majoring in sustainable agriculture and food systems, the class offers a way to be outside, add to her resume and potentially earn a naturalist certification.
"The whole campus atmosphere feels kind of intense," Roberts said. "It was kind of a nice distraction to be like – ooh, we're doing science."
Some results were immediate. In the lab, students were able to quickly measure salinity or dissolved salts, which are an indicator of water quality. In the middle of the waterway, salinity levels were three times higher than at the eastern and western edges, which "could reflect some freshwater inputs," on the Arboretum's northern and southern boundaries, Poulin said. 
Some of the collected water was also placed on round plates and diluted to different levels to see over 24-hours what bacteria might grow, indicating fecal coliform.
Students learned how to use pipettes to place drops of water on plates treated with growth material that were then sealed shut. What grows or doesn't grow will be measured to extrapolate bacteria levels.
"This was fun," said Nathan Teboul, a junior who is studying sustainable agriculture and food systems. "I'm excited to see especially what comes from the highest dilution."
The bacteria counts didn't correlate with the salinity numbers, which suggests the presence of fecal coliform isn't driven by the same factors, Gerhart said, but repeated sampling in the freshman seminar could shed further light on conditions.
"Repeated sampling can tell us if these are stable spatial differences along the waterway, or if all the sites are highly variable through time," she said. 
Primary Category
Tags