The Aggie Transcript: Building a Science Writing Space for Students
Quick Summary
The Aggie Transcript was created in 2014 by Professor Sean Burgess, Department of Molecular and Cellular Biology.

The student-run publication recently released its second print issue.

The publication accepts submissions from undergraduate students across UC Davis, regardless of discipline.
In the fast-pace STEM world, it's hard to keep up with the latest advances, trends and impacts of the life sciences. In an increasingly connected world, communication is key. And UC Davis undergraduates are cutting their science communications teeth in a variety of writing courses offered by the University Writing Program, like Writing for the Biological Sciences (UWP 102B).
"Students spend a considerable amount of time writing for their UWP classes," said Professor Sean Burgess, Department of Molecular and Cellular Biology and founding faculty member of The Aggie Transcript. "I thought that a publishing platform would enable students to share their work outside of class and give them a publication to list on their resumes."
In winter 2014, Burgess decided to act on the idea. She recruited eight students from her Advanced Molecular Biology class (MCB 121), and together, they launched The Aggie Transcript, a student-run publication providing undergraduates a venue for sharing their life sciences writings.
Recently, The Aggie Transcript was awarded the UC Davis Advancing Academic and Career Goals Award, which recognizes a student-run organization that successfully promotes academic achievement and provides opportunities for students to develop academic and professional qualifications for future success.
"It feels really great to receive the award," said Rachel Hull, a junior biochemistry and molecular biology major and a senior editor of The Aggie Transcript. "It definitely is a really good feeling to be recognized for our achievements."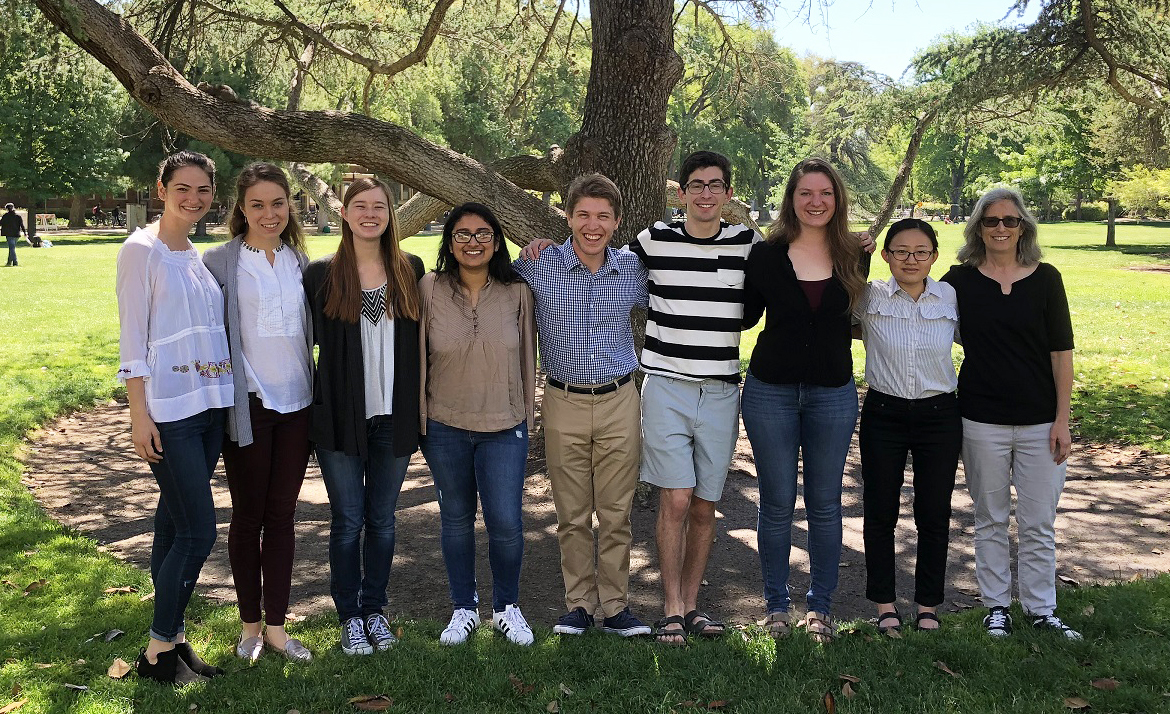 From personal narratives to the latest news
Since its inception, The Aggie Transcript has grown quite a bit. The eight-person founding editorial board has grown to 26 past and present students. Burgess estimates that by the end of the 2018 academic year, the publication will boast more than 100 original articles on its website, with content written by students across academic disciplines at UC Davis. Article topics span the biological sciences gamut, from farming ants and xenogeneic organ production to book reviews and soil science.    
"Anyone can submit," said Hull, noting the article must have some sort of life sciences angle. "And once they submit, the article will undergo an extensive review process through our editorial board."
Brenda Rinard, a lecturer in the University Writing Program who provides editorial support for The Aggie Transcript, lauded the student editors for their dedication to the publication. "The work they do is wonderful," she said. "I also think it's really helpful for the editors that they have that experience of giving feedback."    
"I am so impressed how the editors work together to keep the journal running," added Burgess. "They came up with the idea of pairing junior and senior editors for each submission as a mentoring plan."
Being involved in The Aggie Transcript has gone a long way for students outside the UC Davis campus. Nicole Strossman, formerly the editor-in-chief of The Aggie Transcript, noted that her involvement with the publication helped her secure a research position with the Stanford/VA Aging Clinical Research Center.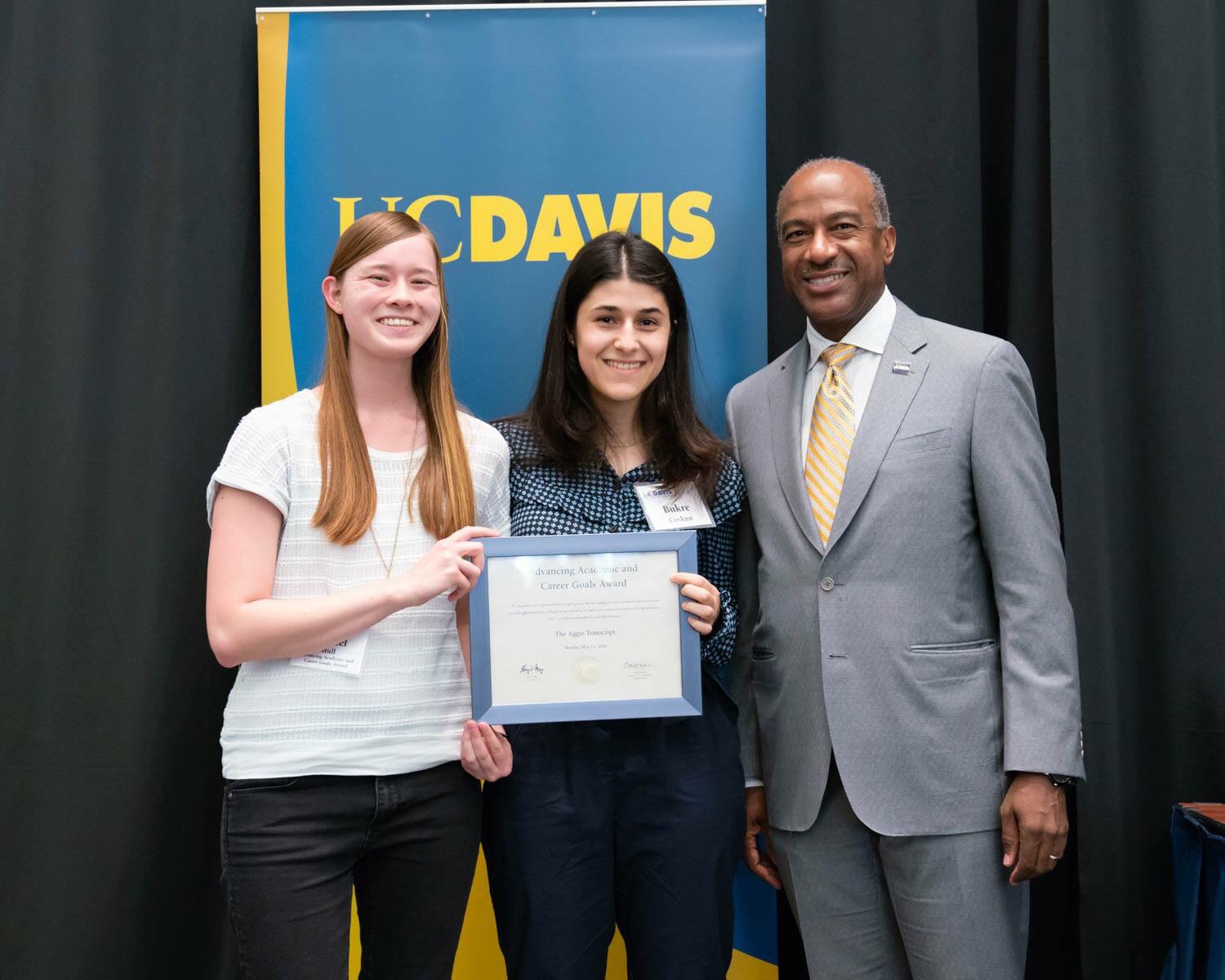 "While interviewing for the position, my now-boss let me know that one of the aspects of my application that stood out to her from the others was my literature review published on the journal's website," said Strossman. "That paper still occasionally gets brought up in conversation with various coworkers, as well as how unique it was to have been afforded that experience as an undergraduate."
Recently, The Aggie Transcript underwent some cosmetic changes. The editors enlisted the help of a webmaster to migrate and revamp their website. Following the new website's launch, Hull and the team decided to enter it for consideration in the UC Davis Outstanding Student Awards.
"I think they totally deserve it," said Burgess. "An award for Advancing Academic and Career Goals is very appropriate."  
Hot off the press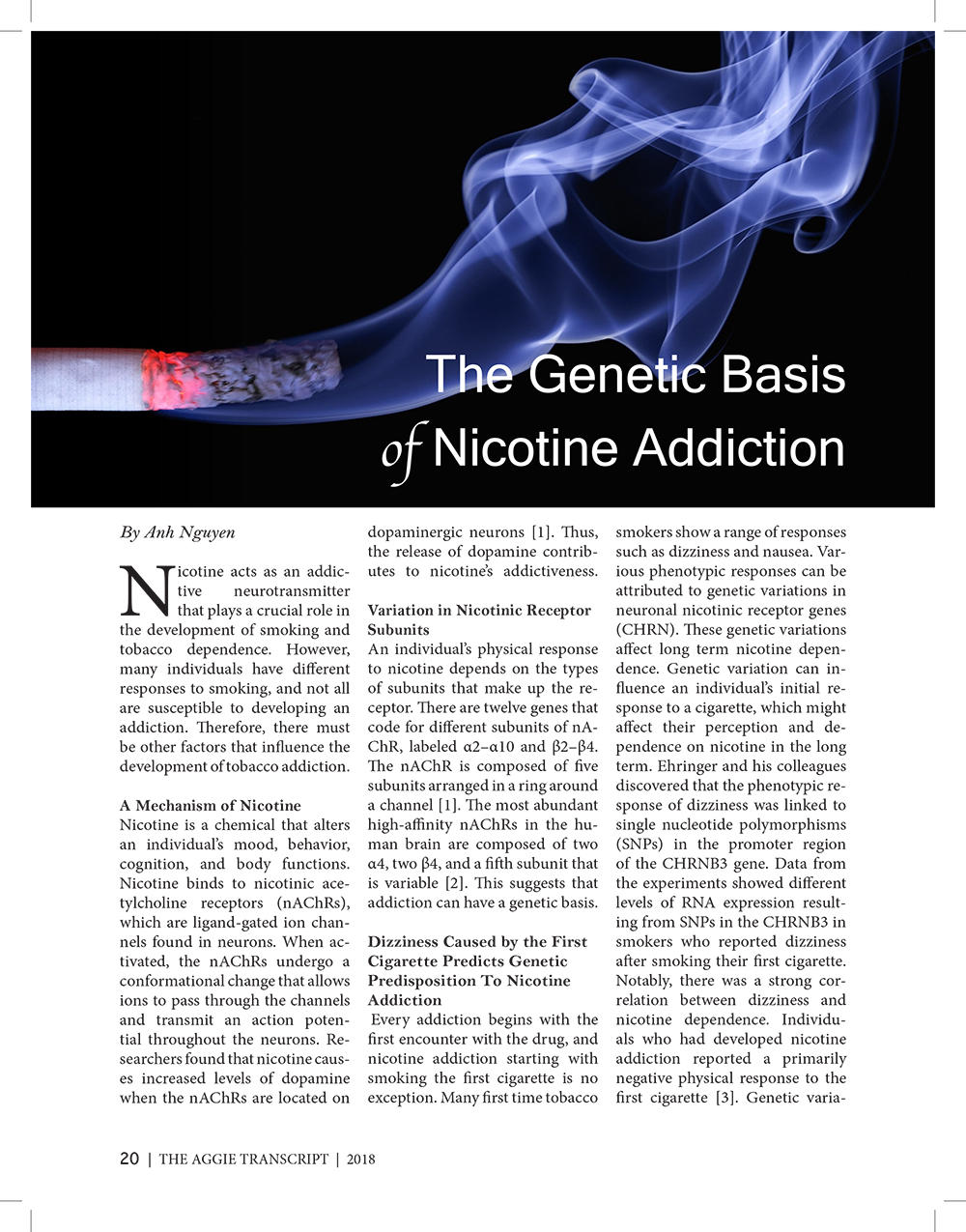 For undergraduates, publishing opportunities are invaluable in furthering educational and professional goals. Students already produce written works for their classes. The Aggie Transcript provides a platform to share that work.
"It's something that students can be really proud of," said Hull. "I feel like it can be really helpful for your career because it's something you can put on your resume. You can say, 'Hey, I'm a published author. Check me out in The Aggie Transcript.'"
With the school year winding down, Hull and her fellow editors are prepping the latest print edition of the journal, comprised of 21 articles spread across 52 pages.
"As one of the primary layout artists for the journal both this year and last year, it's been particularly exciting for me to be able to design something that showcases the work of so many talented students," said Hull.
Media Resources
Primary Category
Tags