BioInnovation Group: Bringing Hands-On Lab Experiences to STEM Students
Quick Summary
Launched in 2014, the BioInnovation Group connects undergraduates to life sciences research through student-run, independent projects

From synthesizing "Real Vegan Cheese" to developing microfluidic devices, the group allows students to be the drivers of innovation
When Lisa Illes was 10-years-old, her fifth-grade teacher asked about her dream job. By then, Illes had been exposed to some science research thanks to her father, a scientist for the Lawrence Berkeley National Lab. Fresh in Illes' young mind was the threat posed by global climate change. With her father, she'd attended a talk on the topic given by Steven Chu, then the sixth director of the Lawrence Berkeley National Lab. The experience informed Illes' answer to her teacher. She wanted to be a nuclear engineer.
"As I got older and sort of understood the world a little bit more, that dream changed in nature a little bit, but it's fundamentally the same," said Illes, now a senior biological systems engineering major at UC Davis. "I want to work in an industry or in a field that provides value to people, that is sort of indispensable in some way and makes their lives better or is necessary for survival."
As president of the BioInnovation Group, an undergraduate student club at UC Davis, Illes works to spread her passion for entrepreneurship and innovation to students across UC Davis. Moreover, she and other BioInnovation Group members want to provide their peers with opportunities to build a solid foundation of basic laboratory skills.
"One of the gaps that we see is there's not a lot of help with [basic biological] laboratory skills," said Illes. "In some instances, you're just kind of put into a research lab and sometimes that transition can be a little bumpy."
Through student-run, independent projects—from synthesizing "Real Vegan Cheese" to developing microfluidic devices and advancing 3D bio-printers—the group puts science research with real-world implications into the hands of undergraduates, allowing them to be the drivers of innovation.
"The club is building structure that can help students get introduced to research at various levels of commitment," said the club's faculty mentor Associate Professor Marc Facciotti, Department of Biomedical Engineering and the Genome Center. "It gives them an opportunity to have ownership over projects that they care about."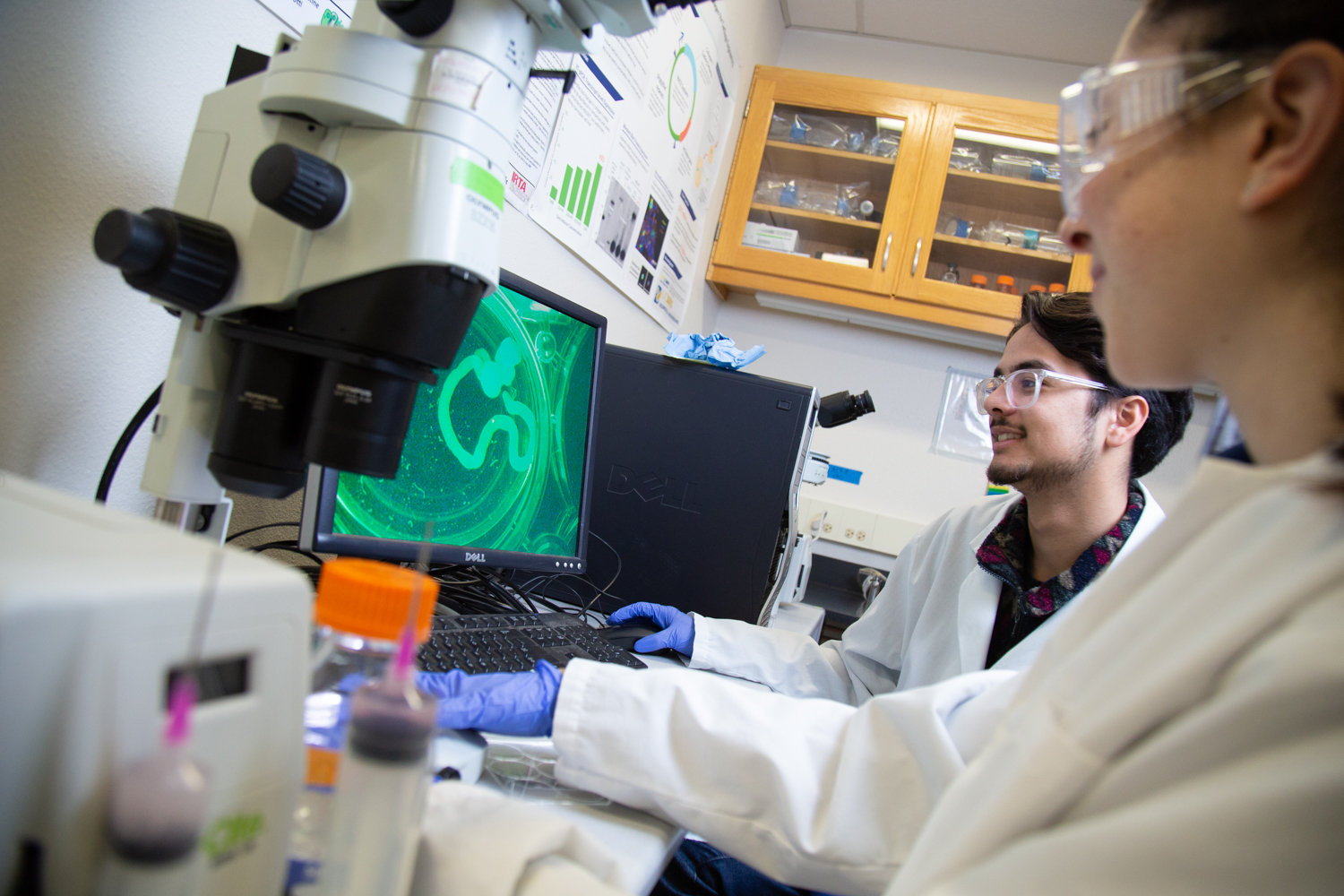 Making vegan cheese "real"
Launched in 2014, the BioInnovation Group's home base is the TEAM Molecular Prototyping and BioInnovation Lab, a mixed-use teaching space for the Department of Biomedical Engineering located in the Academic Surge building. Illes estimates that roughly 60 undergraduate students are involved in the BioInnovation Group, with members representing over 10 majors from the College of Biological Sciences, College of Engineering, College of Agricultural and Environmental Sciences and College of Letters and Science.  
Students interested in joining the club are invited to attend any of the open lab meetings for the group's individual projects. After joining, they receive formal laboratory safety training and are eventually assigned to a project. About 12 students work on each project. According to Facciotti, all proposed work is reviewed by himself and, when necessary, undergoes proper Biological Use Authorization.
"It's a great opportunity to get into a lab that will teach you things," said Jessica Lee, a sophomore biochemistry and molecular biology major. Lee leads the club's Real Vegan Cheese project, which aims to create a better product for those searching for a cow-free cheese alternative.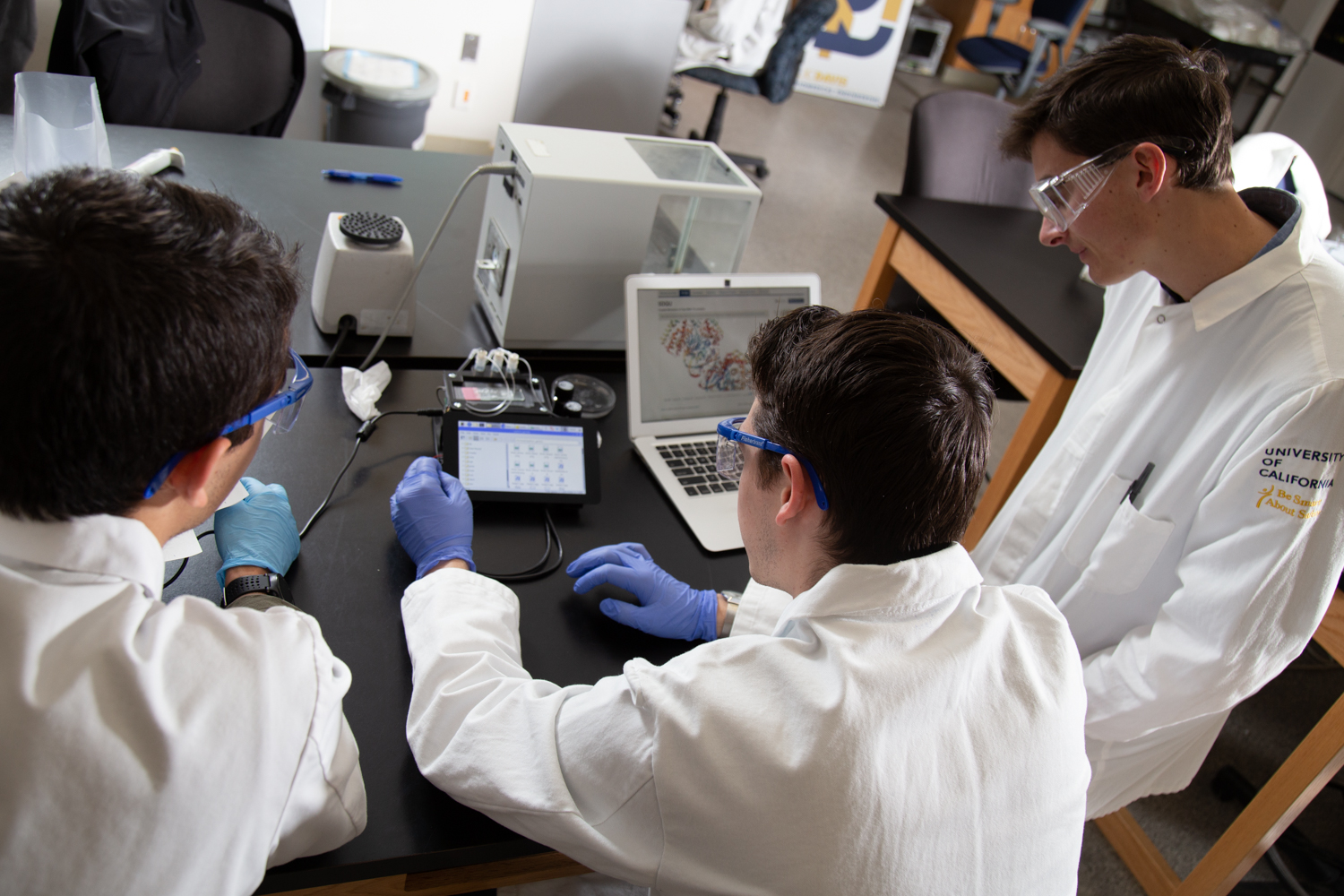 "The idea is that we're using genetically modified yeast to synthesize casein, which is the main protein in cow's milk that's used in cheese," said Lee. "It's made from the same components as traditional cheese but produced through cellular agriculture." 
The Real Vegan Cheese team investigates methods that will allow them to reproduce the segments of DNA responsible for coding casein proteins using yeast cells. That requires introducing the code for casein proteins into a plasmid, a circular piece of DNA often found in single-celled organisms that lack a nucleus.
"You insert that [the code] into the bacteria and the bacteria starts to replicate the plasmid," said Kia Aliakbar, a senior biomedical engineer major and Real Vegan Cheese team member. "At that stage, we're trying to find out how well is this [specific] DNA performing? Do we need to make any modifications to it to make sure that it transcribes and translates the way we expect it to?"
After that, they introduce the code into yeast cells. "Hopefully, after enough trials, we'll have yeast cells that are effectively producing the proteins necessary to make cheese," said Aliakbar.
The project team is also gaining experience on the regulation side of business, weaving through the maze of rules that come with creating a new product. "According to the Food and Drug Administration, if we made synthetic milk using the same process as we are using to make cheese, then our milk could not be called milk because it did not come directly from a cow," said Lee. "In an ideal world with regulators rolling back their previous definition of dairy, our real vegan cheese could be sold as a normal cheese product with labeling to indicate that it is vegan and cruelty-free. This would hopefully help introduce a 'vegan' product to a larger market."     
Connecting students to the entrepreneurial community
Other BioInnovation Group projects include efforts to design low-cost, 3D-printed microfluidics devices, which allow researchers to scale down chemical analysis experiments; and efforts to modify 3D-printing technology to print bioproducts, or "cells trapped in a gel," as the BioInnovation Group refers to it. The club is also associated with the International Genetically Engineered Machine (iGEM) Team at UC Davis. iGEM is a worldwide competition that challenges students to advance the field of synthetic biology by tackling modern problems. 
"Students are learning how to build new programs, manage projects, 'sell' and communicate ideas and projects, and in general, build some of the non-book/technical skills and mindsets that are important in the development of a professional," said Facciotti.
Along with providing undergraduates with the opportunity to innovate, the group also connects them to the larger entrepreneur community on campus, including centers like InnovationAccess and the Child Family Institute for Innovation and Entrepreneurship.
Still, there's always room for more support. While the team does have a lab—outfitted with polymerase chain reaction machines, a gel electrophoresis station, centrifuges, fridges and other pieces of equipment—much of it comes from donations or is recycled. According to Facciotti, there are many ways to help support the group.
"People can choose to support a specific club project that they're excited about," said Facciotti. "Alternatively, they might want to help fund students that help 'keep the doors open."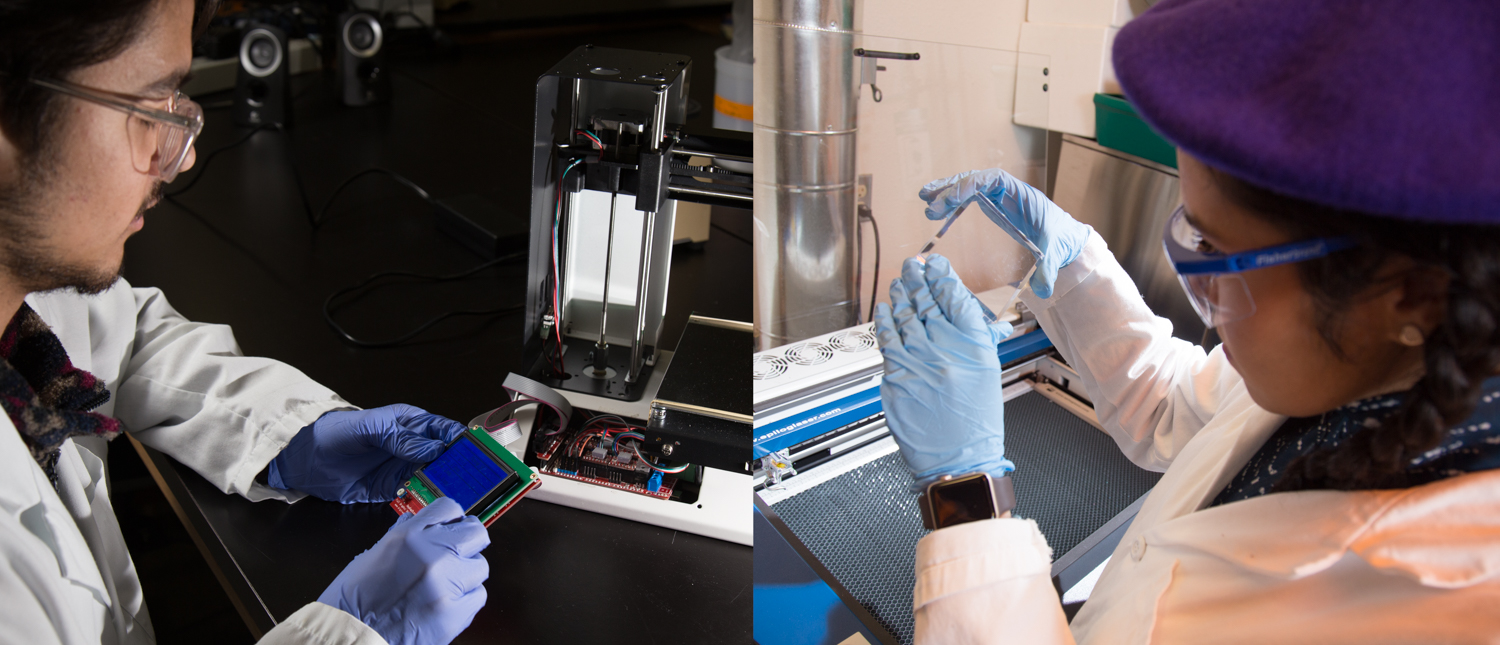 "People can also support the facility itself—that would support the club, but also make possible the many other exciting things that we do in the Molecular Prototyping and BioInnovation Lab, like hands-on courses for first-year students, collaborations with Design faculty and students on sustainable materials, supporting engineering capstone design projects and entrepreneurial student teams," he added. "There are many different things for someone to get excited about."
Primary Category
Tags