Bodega Marine Laboratory Students Receive NOAA's Dr. Nancy Foster Scholarship
Off the coast of Northern California is a 1,286-square-mile protected area known as the Cordell Bank National Marine Sanctuary. Coastal upwelling—spurred by strong winds—funnels nutrients from the deep ocean into this area. As a result, the sanctuary is home to a diverse community of marine life, from corals suspension-feeding on rocks to seabirds flying in the sky. And for some Aggies, it's a field site.
For outstanding work in the marine sciences, graduate students Carina Fish and Kate Hewett, both of the Bodega Marine Laboratory, are among this year's recipients of the National Oceanic and Atmospheric Administration's Dr. Nancy Foster Scholarship. Selected from a pool of 133 applicants, the students will use the scholarship to support their individual research projects on climate change and oxygen dynamics in the Greater Farallones and Cordell Bank national marine sanctuaries and the surrounding region.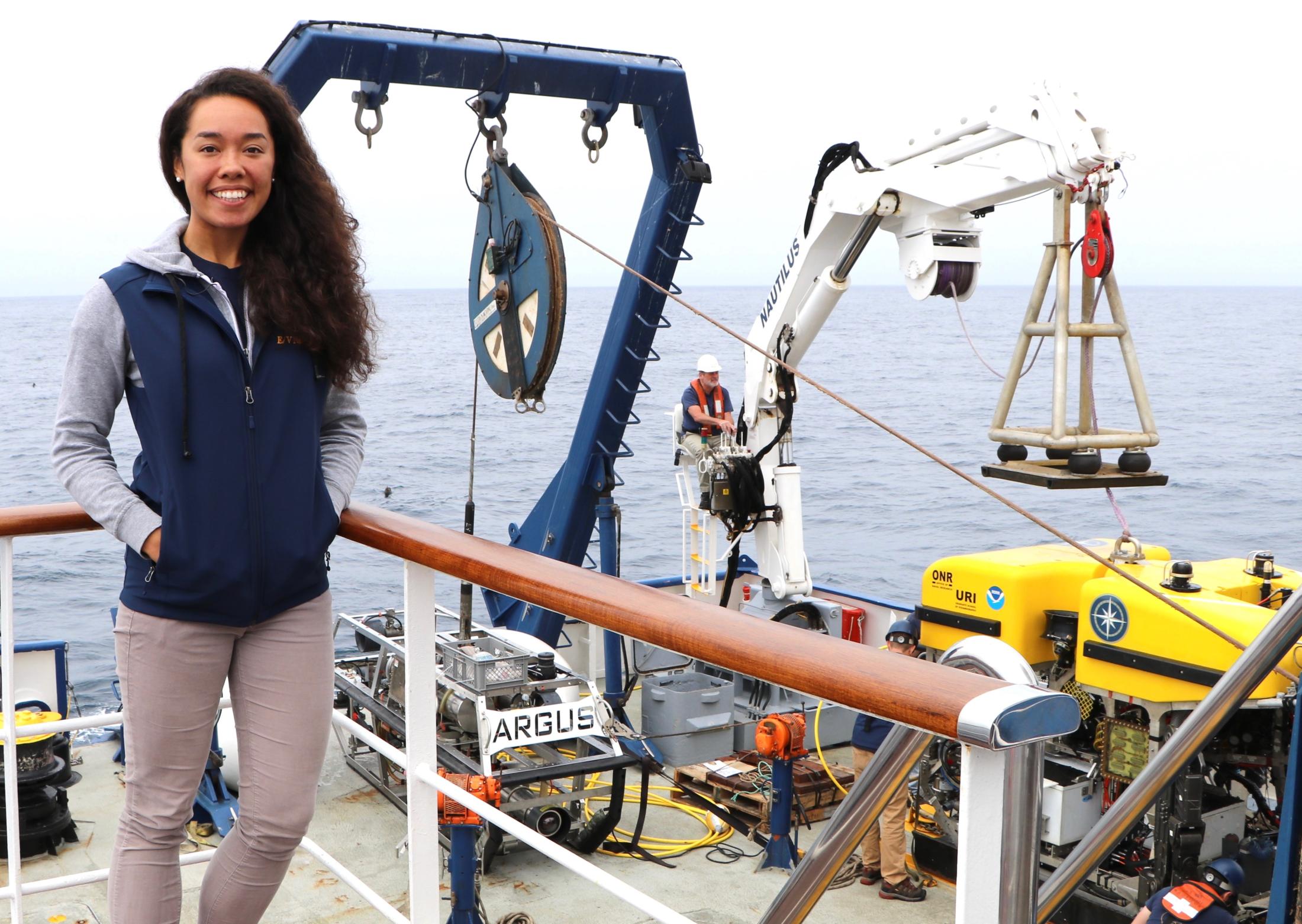 Carina Fish: deep sea corals, the record keepers of climate change
With its crashing waves, the ocean surface can be chaotic. But when Carina Fish scuba dives and descends a few meters, she finds the chaos replaced with tranquility. As she steadies her breath and kicks her legs, the world slows.
"Being underwater is great because I find the pace in this society to be very busy as we're on a go-go-go kind of schedule," said Fish, a geology Ph.D. student.
Fish studies how climate change impacts the deep ocean. To study this, she looks to deep-sea corals, which can live for thousands of years, to gauge chemical changes in the ocean. Much like tree rings, some corals have bands within their skeletons that provide a chemical record of past environments.
"If you use the chemistry of the coral skeleton, you're able to understand their environment, or what they ate back when that part of the skeleton was produced," said Fish.
While deep-sea corals are her environmental measuring stick, Fish's research questions largely concern understanding the ocean surface's most recent environmental changes, including changes in temperature and acidity. She monitors populations of the corals' main food source, plankton, to track these changes.
Are plankton blooms as robust as they were in the past? Do deep-sea corals favor a particular type of plankton? And has the most common type of plankton for the region shifted to a different type of plankton?
"For one part of my research I'm seeking to correlate changes in growth band size to the environmental parameters that the coral is seeing and the food it's receiving," she said. "Say for example, a coral is receiving more food, I would then presume it to lay down a bigger growth band if all else is constant. I can then follow up and trace the change in food amount to an environmental parameter."
Fish started her Ph.D. at UC Davis in 2016. During her search for a suitable Ph.D. program, she prioritized finding a supportive environment and an advisor who could help her excel. She found both with Professor Tessa Hill, of the Bodega Marine Laboratory and the College of Letters and Science's Department of Earth and Planetary Sciences.
"She is an incredible mentor," said Fish. "I feel so very lucky to have the opportunity to be mentored by her for my entire Ph.D. career."    
According to NOAA, Fish's work will help inform the management of the sanctuary's deep water habitat.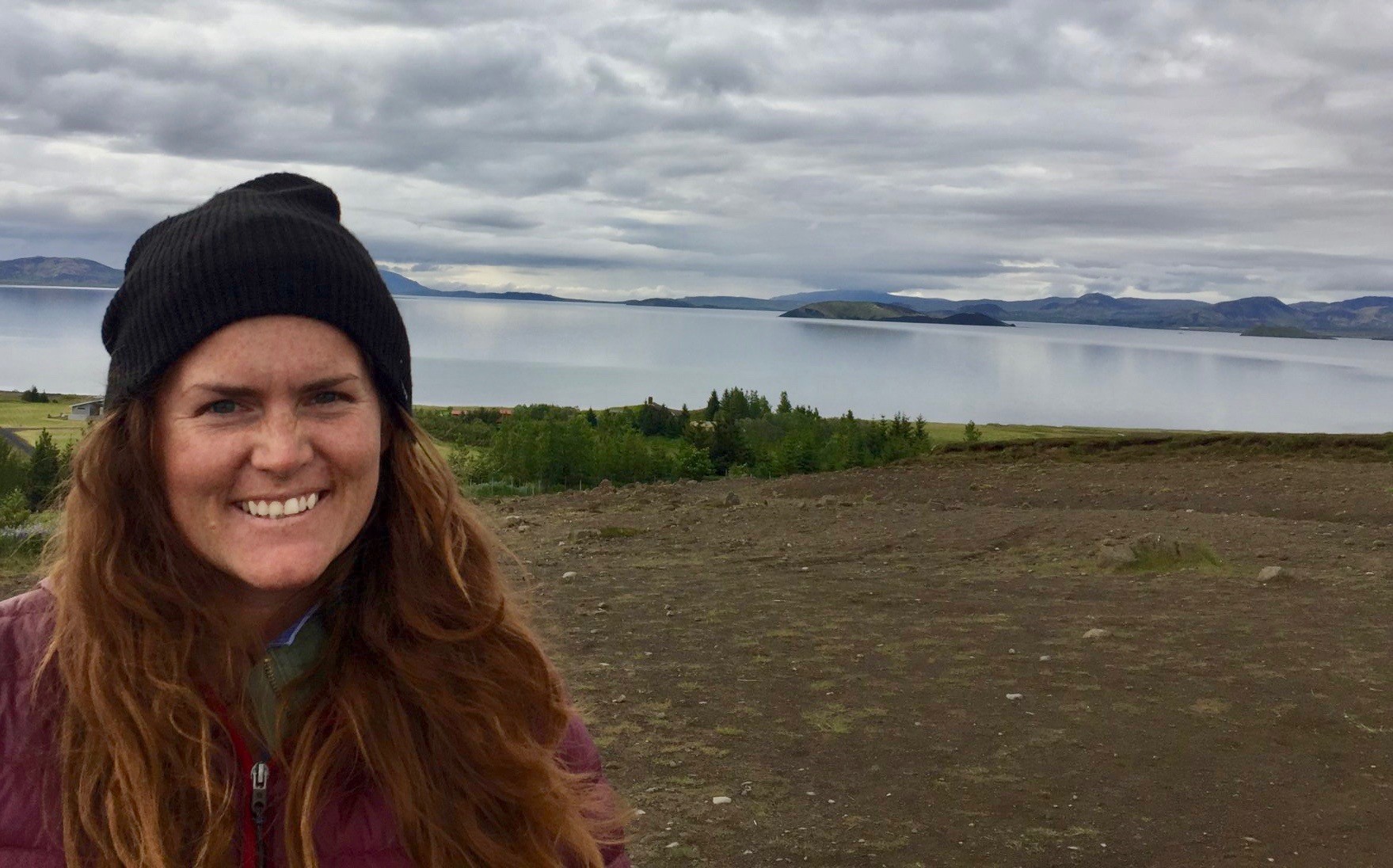 Kate Hewett: studying suffocating oceans
Even before studying oceanography in an academic setting, Kate Hewett showed an interest in the ocean. Growing up on a small island in Micronesia, she spent her childhood exploring coral reef systems and grottos, keeping a field book of the flora and fauna she found.
"The thing that got me into switching from enjoying the ocean to wanting to study the ocean was the challenges that it presents," said Hewett, a hydrological sciences Ph.D. student. "It's fascinating to think about how physics impacts the chemistry of water."
Oxygen is necessary to support life on Earth, including life in the sea. The distribution of ocean oxygen is controlled by physical, biological and biogeochemical processes. And all of these processes are sensitive to climate change. Hypoxia—low levels of dissolved oxygen— can be the result of natural processes and human activity, and is threatening marine ecosystems.
"Globally, ocean oxygen is declining, and we're also seeing hypoxic events happening more often and over bigger areas and they're lasting longer," said Hewett.
Hewett wants to know when and why areas in the Cordell Bank and Greater Farallones national marine sanctuaries experience hypoxic conditions, as well as how these events affect marine life and nearby estuaries.
"Each species in the ocean reacts differently to different dissolved oxygen concentrations," said Hewett, noting that hypoxic events can cause death or cause marine life to avoid affected areas.
Already, she's collected four years-worth of data on hypoxic events in the sanctuaries.
Hewett's research focuses on understanding nearshore oceanographic processes and how they impact oxygen concentrations. She tracks water as it is upwelled on to the shelf, an area connecting open ocean and shoreline, and examines how oxygen levels change. Water upwelled onto the shelf undergoes many chemical changes thanks to a convergence of water from the deep ocean, estuaries and manmade runoff. It's a twister of physics, chemistry and biology. 
"It's important to understand seasonal and longer-term dynamics of our sanctuaries, so that we can better understand the stressors that occur," Hewett said. "We can inform policymakers and work with sanctuary managers to conserve and protect these resources."
Hewett started her Ph.D. at UC Davis in 2014. She was drawn to Professor John Largier's Coastal Oceanography Group at the Bodega Marine Laboratory, which focuses on understanding links between traditional oceanographic study and critical environmental issues.
"I like the way John looks at the ocean and the way he looks at coastal problems," said Hewett. "Nearshore dynamics are complex. I feel lucky to have his mentorship during my Ph.D."
Hewett's scholarship will be supported by the NOAA Ocean Acidification Program. Her doctoral studies will focus on hypoxia in Greater Farallones and Cordell Bank national marine sanctuaries off the California coast. 
Primary Category
Tags