CBS Graduate Group Staff, Faculty Recognized for Exceptional Service and Mentorship
UC Davis Graduate Studies presented members of the CBS graduate community with awards for service, mentorship and engagement
Faculty and staff in the college's eight graduate groups were well-represented among this year's recipients of mentorship and service awards by Graduate Studies, which presents awards annually to members of the graduate community who have made impactful and far-reaching differences in their programs, and in the experiences of their students.
Outstanding Graduate Program Coordinator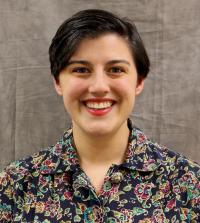 Alyssa Parsons
Biochemistry, Molecular, Cellular and Development Biology graduate group coordinator
This award recognizes UC Davis graduate program coordinators who demonstrate initiative beyond their programs and contribute to improvements in graduate education at the campus and system-wide levels.
In the nomination letters, Alyssa was praised for her exceptional knowledge of UC Davis policies, BMCDB operations and advising techniques. As well, her commitment to diversity, equity, and inclusion is evident in her active involvement in various program, college and campus-wide committees aimed at improving the UC Davis community. She advocates for neurodivergent needs, and openly shares her experiences as a way of making others feel welcome and included. Additionally, Alyssa is a staunch advocate for graduate students and consistently engages with them to create a welcoming and supportive environment. Alyssa's exceptional efforts have earned her recognition and gratitude from students for her unwavering support during challenging times. Her dedication and advocacy make her a standout member of the UC Davis graduate program coordinator community.
"Alyssa believes that being a graduate coordinator is an opportunity to be a conduit that connects so many roles, experiences, and opportunities together," said one of her nominators. "She sees each day as a chance to positively impact someone's life and approaches each interaction as a chance to make that individual feel respected, connected and affirmed."
---
Graduate Program Advising and Mentoring Award
These awards recognize outstanding individuals who have made significant contributions to guiding and mentoring graduate students. These individuals were celebrated for their exceptional dedication and support, which have had a profound impact on the lives of their mentees. In total, 34 faculty members received this award, representing various academic colleges and schools at UC Davis. This award is part of UC Davis Graduate Studies' efforts to highlight and encourage positive advising and mentoring experiences in graduate education.
CBS Graduate Group Faculty Recipients
Rishidev Chaudhuri
Neuroscience Graduate Group
Mark Huising
Biochemistry, Molecular, Cellular and Developmental Biology Graduate Group
Dan Kliebenstein
Plant Biology Graduate Group
Stefano Morotti
Biophysics Graduate Group
Madeline Nieves-Cintron
Molecular, Cellular and Integrative Physiology Graduate Group
Jean-Pierre Delplanque, vice provost and dean of Graduate Studies, said it was an honor to acknowledge this year's winners who exemplify the importance of mentorship and advising in graduate education.
"Mentorship and advising are critical aspects of graduate student success and pillar of the UC Davis Graduate Studies' strategic plan, but these faculty are truly living this mission through their energy and effort," he said. "We are so grateful to them for sharing their time and talents with our graduate students and postdocs."
Primary Category
Secondary Categories
Tags