Dean's Mentorship Awards Recognize Outstanding Graduate Student Mentors
Annual awards are made possible by philanthropy and help support the next generation of scientists
Mentorship in the life sciences plays a crucial role. One generation helps the next, and together new discoveries are made, techniques are developed and skills are honed, by both mentor and mentee.
The CBS Dean's Mentorship Awards, which are made possible through donations to the college's Annual Fund, recognize exceptional graduate students who have mentored undergraduate students in the lab and classroom. This year's recipients were honored at a college award ceremony on Saturday, June 3.
2023 CBS Dean's Mentorship Award Recipients
Samuel Petshow
Biochemistry, Molecular, Cellular and Developmental Biology
Samuel is a Ph.D. candidate in the lab of Karen Zito, a professor in the Department of Neurobiology, Physiology and Behavior.
Said Zito in her nomination letter, "Sam has been a fantastic mentor for multiple undergraduate students. He exhibits exceptional patience and care in guiding them toward better understandings of their projects." Samuel is credited for imparting upon his mentees self-confidence, and for empowering them to become independent researchers and scholars. Many of his efforts have championed diversity, equity and inclusion on campus, and he has also collaborated with peers to create original curriculum for undergraduates.
"Sam is one of the best mentors I have had," said Katherine Sayaseng, a mentee in Zito's lab. "He has helped me further understand the fundamentals of my research. If I have questions, Sam stimulates my thinking by asking guiding questions instead of simply telling me the answer. His efforts have led me to become a more confident scientist."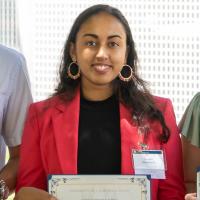 Natalie Sahabandu
Biochemistry, Molecular, Cellular and Developmental Biology
Natalie is a Ph.D. candidate in the lab of Richard McKenney, an associate professor in the Department of Molecular and Cellular Biology.
Said McKenney in his nomination letter, "From the beginning, Natalie has been clear about her desire to help undergraduate students learn how to conduct advanced research. I can say without a doubt that she has been the biggest catalyst for advancing undergraduate student research in my lab since it started." McKenney also credits Natalie with mentoring five undergraduate students in under four years, as well as with exceptional organizational skills, compassion, and thoughtfulness toward her students.
"Her training has enabled these students to perform experiments independently, reproducibly, and with rationale thought and input," added McKenney. "A truly remarkable accomplishment given Natalie's relatively junior experience as a scientist and mentor!"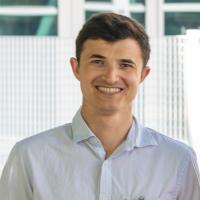 Adam Fishburn
Microbiology
Adam is a Ph.D. candidate in the lab of Priya Shah, an assistant professor in the Department of Microbiology and Molecular Genetics.
Said Shah in her nomination letter, "Adam understands the mission of UC Davis in training the next generation of scientists. He takes extra time to not only show students techniques, but teach them the fundamental principles that form the foundation of the technique in question." Adam is also recognized for helping his mentees achieve independence in the design and interpretation of their own experiments. Many of his mentees have been co-authors on resulting papers, and have also gone on to pursue graduate degrees of their own.
"Adam always took me seriously as a researcher and treated me as a collaborator," said Vivian Hoang, a former mentee and current Ph.D. student at the University of Pennsylvania. "His mentorship and trust empowered me to think creatively when problem-solving, and confidently take ownership of my research."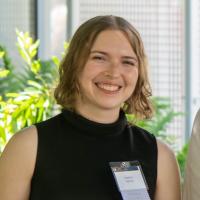 Angelica Guercio
Integrative Genetics and Genomics
Angelica is a Ph.D. candidate in the lab of Nitzan Shabek, an assistant professor in the Department of Plant Biology.
Said Shabek in his nomination letter, "Angelica started her graduate studies in my lab more than four years ago and she is one of the most outstanding Ph.D. students I have met and trained. Her enthusiasm to share her immense repertoire of scientific knowledge and expertise as well as to passionately guide and teach almost every new member in the lab never ceases to impress me."
In the time since she joined Shabek's lab, two of the undergraduate students under Angelica's supervision were awarded with the Provost Undergraduate Research Fellowship, and others who have since graduated have pursued graduate studies, or careers in biological sciences.
Said Shabek, "Angelica is a rare gem, collegial, and a wonderful mentor."
Nathan Meier
Plant Biology
Nathan is a Ph.D. candidate in the lab of Savithramma P. Dinesh-Kumar, a professor in the Department of Plant Biology.
In his nomination letter, Dinesh-Kumar said, "Nathan is an exceptional graduate student. He is highly committed to training and mentoring undergraduate students in my laboratory." In his time in Dinesh-Kumar's lab, Nathan has mentored three high school students from Young Scholars Program (YSP), two of whom have been admitted to Stanford University and Cornell University, respectively. He has also mentored five undergraduate students including a summer NSF intern from Washington University, one visiting master's student from Germany, three rotation graduate students, and two visiting scientists.
"His mentoring style allowed me to grow as a scientist who could think critically and work methodically, traits that go beyond the classroom," said Alvin Tong, one of Nathan's mentees in the Dinesh-Kumar lab. "He has had an immense impact on my life."
About the award
The Dean's Mentorship Awards are made possible by donors to the college's Annual Fund. Each award carries a $5,000 prize. The awards are the highest honor the college bestows upon its graduate students, and recognize the significance of mentorship and collaboration in the education of young scientists.
Primary Category
Secondary Categories
Tags