DEI Graduate Student Advisor to CBS Dean Reflects on Positive Impact, Successors, Moving on to Stanford University
For the past two years, Population Biology Ph.D. Candidate Victoria Watson-Zink hasn't solely spent her time at the UC Davis College of Biological Sciences studying the intricacies of land crab genetics. When she wasn't in the lab, conducting fieldwork or teaching classes, Watson-Zink, a first-generation college student, dedicated her time to making the college a more welcoming and equitable place for its underrepresented students.
As the first graduate student advisor to the dean on diversity, equity and inclusion (DEI), Watson-Zink spearheaded numerous efforts to help the UC Davis community address past and current racial inequities. 
"This position came out of the racial reckoning that we had as a nation over the killing of George Floyd, Breonna Taylor and Ahmaud Arbery," said Watson-Zink. "The college realized that there was more that we could be doing to address diversity in our institutions and to combat the systemic racism that we see in academic institutions."  
As Watson-Zink readies for graduation, she's finishing her tenure as graduate student advisor to the dean on DEI. Soon, she'll head to Stanford University, where she'll conduct postdoctoral research on her scuttling research subjects as a joint Stanford Science Fellow and NSF Postdoctoral Research Fellow in Biology.
Though she'll no longer be on the UC Davis campus, Watson-Zink is leaving behind a founding legacy in the DEI space at the College of Biological Sciences, one that will not be forgotten. 
"Throughout Vicky's term as the inaugural graduate student advisor to the dean on diversity, equity and inclusion, she has exhibited all the traits of a natural leader," said Mark Winey, dean of the College of Biological Sciences. "Vicky is collaborative, welcoming, compassionate and she is devoted to fostering a community within the college and more broadly. She has laid an impressive foundation for this position, and while she will be greatly missed as she transitions from UC Davis to Stanford, her work will be a continuation of her talent and passion here in the college. I, like many, am so grateful to her for her contributions."
A way to affect change
Before joining the dean's office, Watson-Zink had already been doing work in the DEI space as a member of the Population Biology Student Diversity Committee, which aims to support diversity in the Population Biology Graduate Group at UC Davis. As a result, she had more than a few ideas when she became the graduate student advisor to the dean on DEI. And her ideas were welcome.
Whenever Watson-Zink approached the administration with a suggestion, she never heard, "No." She was always met with a, "Yes, and…" 
"It was really validating for me to have the college value my ideas," said Watson-Zink, "and because of this I was able to get so much done in this position."
If you visit the College of Biological Sciences' DEI website (an asset that Watson-Zink helped create), you'll find a list of programs meant to promote the college's vision in the DEI space. Included in that list is the college's Community, Mentorship and Training Program (CoMeT), an initiative Watson-Zink created with Ebony Blackwell, the director of the Biology Academic Success Center. CoMeT aims to increase confidence and academic resilience among students from historically disadvantaged backgrounds. Watson-Zink listed founding CoMeT as one of her standout accomplishments during the past two years.
Watson-Zink also facilitated DEI conversations between the college and the university at large. Last September, she hosted the UC Davis College of Biological Sciences Diversity, Equity, Inclusion and Justice Town Hall, which featured a conversation with UC Davis Vice Chancellor of Diversity, Equity and Inclusion Renetta Tull.  
But Watson-Zink's ambitions pushed beyond community building efforts. She also wanted to affect change at the educational level. So she designed a course for undergraduate and graduate students that spotlights racism in bioethics and medicine. 
"The fact that a lot of the cases I've taught are actually really current, I think is really shocking to some people," said Watson-Zink. "How was this allowed to happen in my generation, in my parent's generation, in my grandparent's generation? This isn't ancient history." 
Watson-Zink built the course around books, like The Immortal Life of Henrietta Lacks by Rebecca Skloot and Medical Apartheid: The Dark History of Medical Experimentation on Black Americans from Colonial Times to the Present by Harriet A. Washington. From there, students dive into various supplemental readings, and have the opportunity to lead their own discussions in the class.
According to Watson-Zink, shining a light on this often hidden history is imperative to implementing change. Such education ensures that future scientists and researchers conduct their work with history, equity and inclusion in mind.
"These are important considerations as we [undergraduate and graduate students] become doctors and people who are going to be working in these spaces where we might be interacting with multiple groups from diverse backgrounds," said Watson-Zink. "How do we make sure that the research that we're doing is honoring the fact that there are differences and there's a history here that's complicated and very difficult to address?"
Watson-Zink's mind is already churning with ideas for future installments of the course. She said she'd like to add a unit focused on COVID and how it impacts different racial communities. 
"Creating this course is one of the things I'm proudest of," she said.
One chapter ends, another begins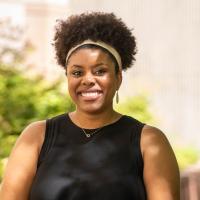 Though Watson-Zink will soon leave the UC Davis campus, the future of her soon-to-be-vacated position is bright. Thanks to increased funding, the college is expanding the graduate student advisor role from a single position to two positions. Alexus Roberts and Elena Suglia, both Ph.D. candidates in the Population Biology Graduate Group, will succeed Watson-Zink. 
"I am incredibly excited and humbled to have this opportunity to make positive changes on our campus and the surrounding community," said Roberts, who's led a number of DEI initiatives since starting at UC Davis in 2017. "Vicky has made excellent strides in the undergraduate community and I would like to continue engaging with undergrads through the bioethics course and the AvenueB program." 
Roberts also hopes to increase graduate student and faculty member engagement in DEI efforts. 
"My hope is to implement an incentive-based program that gets all grad students and faculty excited to be involved in a DEI effort of their choosing or even to make equity and inclusion a central focus of their research and teaching," she said. 
Suglia also hopes to strengthen the relationship between graduate students and the dean's office.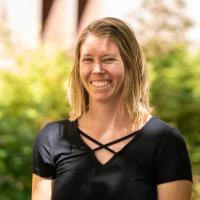 "I would be excited to work with partners in CBS to develop financial support for graduate students who are already spearheading efforts to create and sustain DEIJ (diversity, equity, inclusion and justice) programs within their communities on a volunteer basis," said Suglia. "Additionally, I am curious about what untapped resources exist at the university that would allow CBS to improve the foundation of our DEIJ efforts."
"For example," she added, "the Feminist Research Institute has been developing some really awesome tools to provide training to folks across disciplines who may not have a background in feminist theory or social justice concepts. I want to focus on efforts that will be directly impactful, effective and sustainable, and I believe that bringing more permanent financial support and expertise to the work we are doing will bring us closer to reaching those goals."
Watson-Zink is confident in her successors, noting that their interests in the DEI space complement each other well. 
UC Davis: A found family
As her time on campus wraps, Watson-Zink reflected on her journey to the graduation stage. She's overcome substantial hurdles while earning her Ph.D. Both her mother and grandmother passed away, and Watson-Zink herself faced significant health issues, undergoing multiple surgeries.
Thinking on the significance of her accomplishments, Watson-Zink said, "When I graduate from the Population Biology Graduate Group, I am going to be the first Black student of any gender identity to ever get a Ph.D. from that graduate group since it started in 1993."
While there's more work to be done, Watson-Zink looks back on her time at UC Davis fondly.  
"What's really always touched me about this community is that whenever I've been down, the community has circled the wagons around me and supported me and helped build me back up," she said. "I'm really going to miss that and all my friends here. It's like my little found family."    
Media Resources
Primary Category
Tags