Eco-Friendly CBS Alumni Startup Receives $21.6 Million Investment
Every year more than 100 billion garments enter the world's landfills, and the Environmental Protection Agency estimates that the average American throws away roughly 81 pounds of clothing material per year. 
While studying at UC Davis College of Biological Sciences, Shay Sethi ('15 B.S. in Biochemistry and Molecular Biology) and Moby Ahmed ('15 B.S. in Genetics and Genomics) saw a need to develop a modernized recycling process that reconstitutes fabric to help eliminate waste in fashion. UC Davis biomedical engineering (BME) professor Marc Facciotti served as the faculty mentor for Sethi and Ahmed, guiding the way. 
In 2015, Sethi and Ahmed co-founded textile recycling startup Ambercycle, which announced a $21.6 million investment in January of 2022. Ambercycle converts end-of-life textile 'waste' into new yarns for apparel brands and manufacturers.
Groundbreaking Method to Recycle Mixed Fabrics
"Our vision was to look at all textiles that go into the landfill - clothes, carpets, car interiors, anything made of fibers - to see why they can't be reused," says founder Sethi. "Current recycling systems have challenges dealing with textiles and fiber blends, resulting in most clothing going to landfill at its end-of-life. Ambercycle technology separates and purifies material at a molecular level, creating high-quality regenerated outputs." 
Ambercycle separates the molecular components of textiles, including polyester and nylon. "It's like soup, where you cook things together, and some become solids, others liquid," Sethi says. 
Ambercycle's recycling process creates a new fabric, cycora®, that eliminates end-of-life 'waste' and closes the loop on polyester. Garments produced from the new materials can continuously be put back into the Ambercycle process when a garment is retired.  
Logistical and Business Challenges 
Sethi and Ahmed say that handling lots of fabric has proven to be more challenging than the chemistry itself. "How do you get the fabric into the reactors? What size storage facilities do you need? At what temperature to store materials? How do you move materials? With a forklift? Did someone put a bowling ball in the reactor with all the clothes? Is that going to mess everything up now?" 
Ahmed describes their business development as an iterative process. "First we tried one thing, then another, then repeated that for six years. It was trial and error. We talked to people in the industry, and read academic literature." 
They began Ambercycle by thinking about what well-made clothing looked like and then applied their chemistry and biology knowledge to figure out how to make it. Sethi says, "You don't start with the science, chemical reactions. You start with what you want to create and then figure out what science you need to accomplish your goal." They envision the needs of clothing designers for the fabric they hope to build, considering feel and touch, and color. 
Both founders say that most of their most significant challenges are ahead of them. They hope to see Ambercycle's material in most American closets in 10-15 years. The biggest hurdle, in their view, for any product manufacturer is getting the product to market. They are also improving communication procedures among their team so their organization does not break as it scales upward. "We've expanded to the point where this feels like a real company now!" says Sethi. 
History of Ambercycle and Next Steps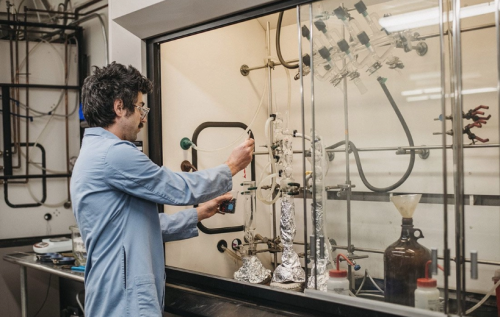 In 2015, shortly after graduating from UC Davis, they were fortunate to find and rent lab space in San Francisco from a woman who ran a biotechnology company. 
The business materialized upon their graduation in 2015 after an H&M representative discovered them. "We were ideating and attending conferences that entire time, going out and talking to people," says Sethi. 
He describes how Ambercycle needs to develop an entire business ecosystem. Not just in the lab or the factory, but by building relationships with designers and brands, the people who can bring their fabric to consumers and set up efficient ways to collect the material currently getting tossed in the landfill. 
As proof of concept, they are creating some garments of their own from their reconstituted material: jackets and more rigid outdoor clothing. "Our goal is to reach circularity, where all our new raw materials come from end-of-life resources," says Sethi. He and Ahmed say that as they refine their processes and build more facilities, the cost of each garment will go down. 
Gratitude and Advice
They found UC Davis faculty extremely helpful throughout the entire process of building Ambercycle, particularly Marc Facciotti. "We could just email him and others at any time, and they'd give a thoughtful response," says Sethi. 
As for advice for other student entrepreneurs, both Sethi and Ahmed encourage business founders to "Just keep going."
Primary Category
Secondary Categories
Tags