$2 Million NIH Grant Expands Grad Program for Underrepresented Students
Aldrin Gomes, a professor in the Departments of Neurobiology, Physiology and Behavior, and Physiology and Membrane Biology, can still recall the reality he faced when he came to the United States to conduct postdoctoral research. Growing up in Trinidad and Tobago, Gomes was accustomed to the cultural diversity of the island. But shortly after stepping on American soil, he started experiencing things he didn't understand.
"I was working hard in the laboratory and had established multiple projects and gathered data for papers," recalled Gomes. "I found out that a newly-hired postdoc in our laboratory who had just graduated from a first-world country was hired at a higher salary than what I was making."
It wasn't just financial inequity that Gomes faced. Often, when he left the laboratory late at night, Gomes found himself followed by police. "So, I changed my work schedule such that I would arrive at work earlier and leave by 8 p.m., so there were people around," said Gomes.
Years later, these and other adverse experiences motivate Gomes to provide equitable opportunities for all. As director of the Initiative for Maximizing Student Development (IMSD) program at UC Davis, Gomes aims to increase the number of Ph.D. students from historically underrepresented groups in the biomedical and behavioral sciences.
Recently, the IMSD program received a $2.1 million T32 grant from the National Institutes of Health's National Institute of General Medical Sciences. The grant will help the program expand its services, which are further supplemented by funds from the College of Biological Sciences and the Administrative Coordinating Council of Deans.
The newly-awarded grant will allow the IMSD program to support 10 first-year UC Davis graduate students from underrepresented and low socio-economic backgrounds and students with disabilities.
"First-year IMSD students arrive early on campus in August and conduct a seven-week summer rotation in a lab of their choosing before the start of fall quarter," said Gomes. "The program enriches their academic experience through workshops, activities, and feedback to improve oral and written scientific communication skills. IMSD scholars also receive personalized mentoring and participate in community building activities."
IMSD helps ensure that graduate students hit the ground running and are equipped with the necessary skills to perform successfully at the graduate level when fall quarter begins. Lab rotations continue during the academic year and the students are provided with a multi-layered mentoring program that includes meetings with IMSD staff, program alumni and UC Davis faculty members. The program also offers workshops on mental and financial wellness, time management, and other topics. 
To ensure students get the most out of the program, program evaluator Amy Barlow collects anonymous student reviews to continuously evaluate the program. This helps staff identify key areas where they can improve the program and its offerings. "We're constantly evolving so that we can do better," said Gomes. 
"The strength of the program really is the training, the mentorship and the community that we provide them," said Stephanie Palacio, the academic coordinator of the IMSD program.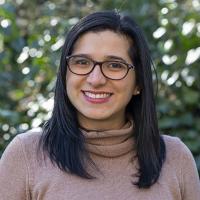 "There can be a sense of isolation, a sense of 'I don't see anyone else who looks like me or shares my culture," added Palacio, who participated in the MBRS-RISE program (similar to the IMSD program) while attending the University of Puerto Rico Medical Science Campus, where she earned her Ph.D. She later came to UC Davis as a postdoctoral researcher. "That's one of the big strengths of the IMSD program: it brings these students together and introduces them to different principal investigators who are also underrepresented so they feel like, 'Oh, there are people like me here!'"
According to Palacio, the program aims to create a community where graduate students from underrepresented backgrounds can feel comfortable and thrive while completing their Ph.D.
"Even just knowing how to reach out for help can be a struggle for many underrepresented students," said Palacio, who faced similar circumstances as an underrepresented and first-generation college student. "Grad school isn't about being self-reliant from the get-go. There is a very steep learning curve."
Gomes praised Palacio for her contributions to the IMSD program.
"Her happy and approachable personality coupled with her diverse background and experience in academia has been an asset in increasing effective communication with the students and providing help that meets each student's needs in a timely manner," said Gomes. "She has made a positive impact on our weekly meetings, built community within the program and has helped our students face difficult circumstances."
Gomes thanked Mark Winey, dean of the College of Biological Sciences, for his contributions to the program. He noted that without Winey's support, the program would be unable to provide summer training support for students prior to their first academic year.
Gomes additionally thanked the IMSD Program's Co-Director, Professor Emeritus Barbara Horwitz, and the Executive Committee for their contributions to the program. The committee includes Educational Enrichment and Outreach Programs Director Connie Champagne; Professor Joanna C. Chiu, College of Agricultural and Environmental Sciences; Professor Elva Diaz, UC Davis School of Medicine; Professor Jay Solnick, UC Davis Health; and Distinguished Professor Jim Trimmer, UC Davis School of Medicine.
Media Resources
Primary Category
Secondary Categories
Tags