A Distinguished Legacy: Recognizing Barbara Horwitz
Surprise celebration for Distinguished Professor Emerita features career highlights from colleagues
In the first part of the UC Davis Emeriti spring celebration, one of the most distinguished professors of the UC Davis emeriti family, Barbara A. Horwitz, was honored for more than five decades of service as a Professor of Neurobiology, Physiology, and Behavior within the College of Biological Sciences.
Kept secret until the day of the event because she dislikes the spotlight, the surprise homage included anecdotes from various colleagues, including Chancellor Gary May.
Unfortunately, despite working seven days a week though she retired in 2018, Horwitz was absent from school that day and missed all the praise. "She comes to work every day, including Saturday and Sunday, after retirement. For some reason, she was not in her office today," said Distinguished Professor Walter Leal said in his opening remarks.
Leal started the quarterly New Emeriti Distinguished Lectures series to celebrate the accomplishments of the faculty who retired in 2021-22. In December of 2022, the first event in the series featured Harris Lewin, of the Department of Evolution and Ecology. The winter quarter featured Geerat Vermeij of the Department of Earth and Planetary Sciences. Sharon Strauss, also of the Department of Evolution and Ecology, closed out the year's series in the spring with a lecture on species diversity in natural communities at the UCD. Lewin, Vermeij and Strauss are all emeriti Distinguished Professors.
A long legacy of excellence
Among the many honors she received during her career at UC Davis, Horwitz was awarded the UC Davis Distinguished Teaching Award and the Bodil M. Schmidt-Nielsen Distinguished Mentor and Scientist Award, which recognizes physiologists for their academic and educational contributions. She also helped run a program that supported the advancement of underrepresented students in biomedical research. With outstanding achievements in teaching, research, mentorship, and administration, Horwitz also served as Interim Provost and Executive Vice Chancellor and Vice Provost for Academic Affairs from 2001 to 2011.
Horwitz secured the position as an assistant professor in the department of physiology. In 1975, she got tenure as an associate professor in physiology; in 1978, she became a full professor. Horwitz became a distinguished professor in 2002 and retired in 2018.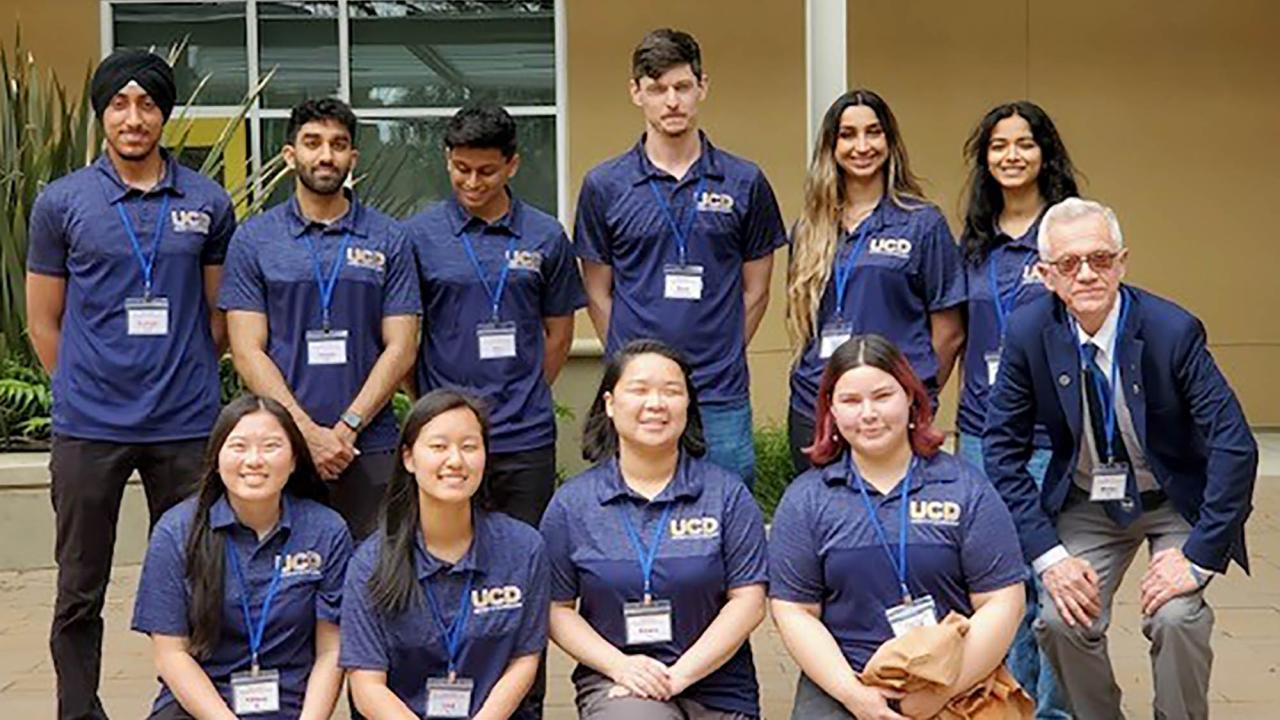 Paying it forward
"No matter how busy she was as an administrator, she always had time to support faculty," Leal said. He then showed a note she sent him by Blackberry back in 2009. "I saw the recent notes about your election to fellow status in the Entomological Society of America. Time to celebrate!"
Explained Leal, it meant a lot to have someone from higher administration acknowledge the accomplishment of a junior faculty. "It took me a long time to find out why Barbara was so nice to the faculty. But recently, I found an explanation for the act of kindness," he said.
At the ceremony, Leal showed old footage from the American Physiological Society "Living History of Physiology Project." Horwitz says she was advised to "be nice to people as you go up the ladder because you're going to meet them coming down. So that was the first piece of good information. I mean, a very good piece of first information."
A UC Davis story
Horwitz received her Bachelor's and Master's of Science in Biology from the University of Florida and a Ph.D. in Physiology from Emory University. She came to UC Davis in 1968 to do her postdoc work as an assistant research physiologist.
As Leal said, "Barbara came to Davis not because she wanted to come to Davis." In the footage, she explained she wanted to finish the postdoc because she and Professor Emeritus of Neurobiology, Physiology and Behavior John Horowitz had "started some projects that were important."
"I mean, I knew I needed to have some publications in order to be able to get a position someplace else. So I already decided that was going to take two or three years. But then John came, and that destroyed — that changed — my life plans."
Horowitz led a seminar in 1968 that Horwitz attended. "She stayed awake and told me it was incomprehensible, which is actually, probably fairly accurate," he said in the footage.
In response, Horwitz said she didn't quite understand everything he said, but he was talking to people who weren't as "neuro-oriented" as I was. Horwitz studied energy balance, expenditure, and control in the brain and cells. As people and animals age or gain weight, their body functions aren't as effective, leading to a possible chronic disease or deterioration.
After the celebration, Leal gave thanks to those who contributed to the "Tribute to Barbara Horwitz" via video and live remarks, including the American Physiological Society President Dee Silverthorn, William (Bill) Lacy, Martha O'Donnell, John Wingfield, Ralph Hexter, Chancellor May, and others. Thanks also were given to all students who attended, including Emma Luu and Ross Charboneau, who created the Barbara A. Horwitz Wikipedia page.
Primary Category
Tags