Philipp Zerbe Receives Young Investigator Award from Phytochemical Society of North America
Quick Summary
Funding from the award will go towards Zerbe's research on the defensive chemical strategies of plants
He plans on trying to identify which compounds are best suited to fight against specific pathogens
Zerbe will present his research findings at the 58th Annual Meeting of the PSNA
In a world facing rapid environmental change, securing the health of food crops is a top priority. And while plants have evolved sophisticated ways to adapt to shifting environments, increasing climate-driven crop damage causes much reason for concern.  
"Our crops can't keep up," said Assistant Professor Philipp Zerbe, Department of Plant Biology. "The rate with which environmental pressures are changing is outpacing the adaptive capacity of many crops. At the same time many pests and diseases thrive under warmer conditions causing extensive damage to already stressed plants; this is a growing issue."
To help protect our food sources, Zerbe investigates how crops—like maize—deal with environmental stressors at the molecular level, defining the networks that give rise to chemical defenses. At the 57th Annual Meeting of the Phytochemical Society of North America (PSNA), Zerbe received the PSNA/Elsevier Young Investigator's Award for his work, which includes funding that will allow Zerbe and his team to advance their research.
"I think our research aligns well with the work of other groups in the department and across campus," Zerbe said. "For example, if you consider the STAIR Grant that Professors Anne Britt and Neelima Sinha recently received, it aims to address the challenge of food security from a different angle. Ultimately, deeper knowledge of crop natural defenses and advanced tools for gene editing can complement each other as new avenues to optimize the genetic makeup of crops and help them deal with the increasing climate damage we are witnessing."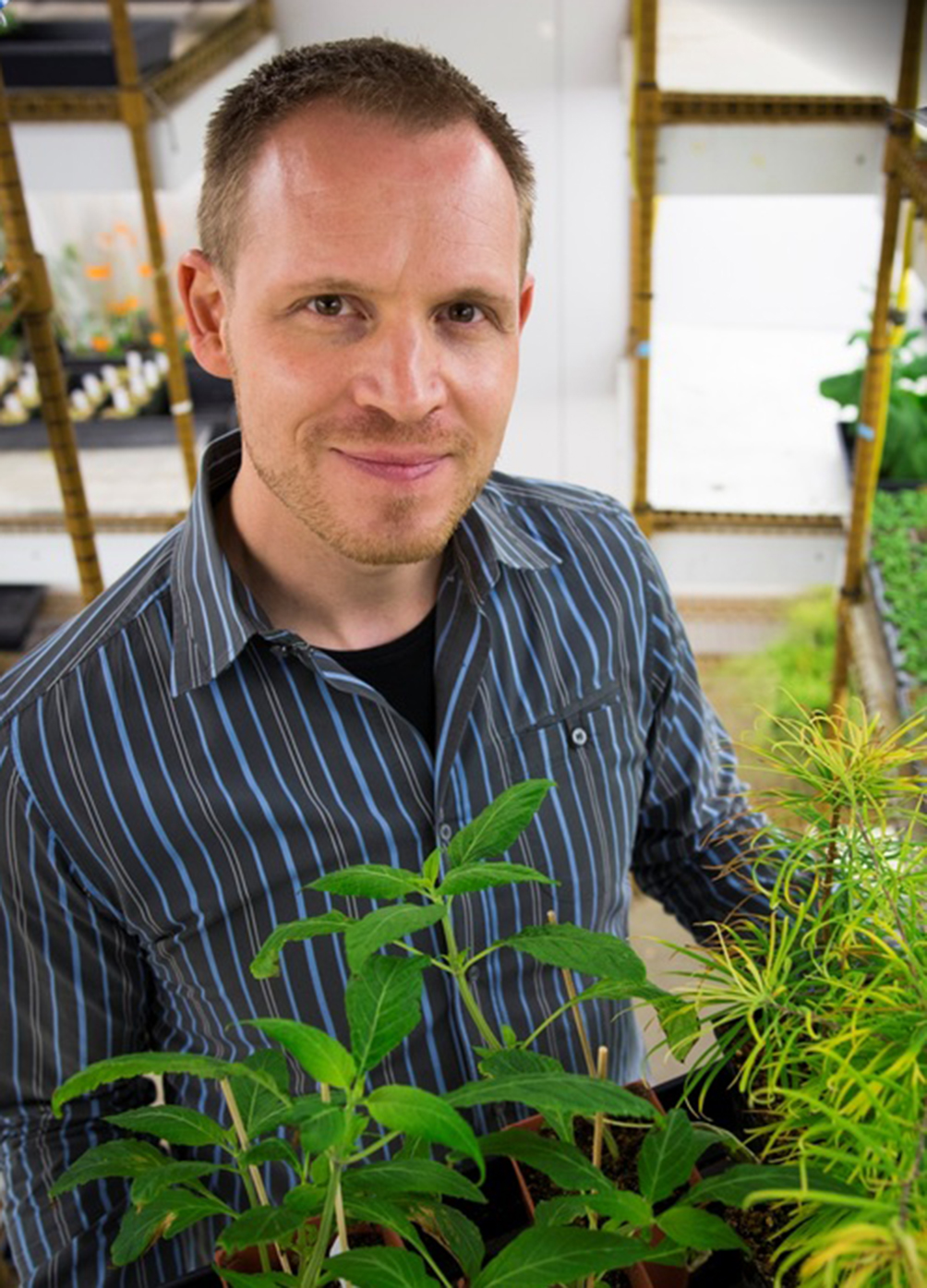 No two plants defend themselves the same way
Chemicals called metabolites are important in the interaction of plants with the environment. When it comes to defending against herbivores, pathogens and other environmental stressors, a class of metabolites, called terpenoids, is a key component in several major food crops. At the PSNA annual meeting—held in August at the Autonomous University of San Luis Potosí (UASLP) in Mexico—Zerbe presented a talk about how cocktails of these defensive chemicals evolved and function in different crop species.
"What we find is that different crop species deploy unique suites of defensive terpenoids," said Zerbe.
In the course of the evolution of these different species, many genome and gene duplications and mutations have allowed each plant to form their own specific defensive cocktail.
"For me, it's fascinating to try and decipher this chemical diversity and learn how it might be applied to generate more resilient crops," Zerbe said. 
Today, researchers have a much better understanding of the genes, enzymes and pathways that produce these compounds in plants. But questions about how plants regulate and deploy the process still abound. Part of Zerbe's plan is to better understand the chemical features that drive the distinct activity of different defensive compounds against plant pathogens, with the goal of finding the compounds that are best suited to fight against specific pathogens.
"We want to look in detail at the mechanistic aspects governing these bioactivities because understanding these will open the gate to engineering tailor-made compounds," said Zerbe, noting that this may help crop optimization and reduce pesticide input.
"For example, we know that maize terpenoids are very effective against many Fusarium fungal pathogens," he added. Such pathogens can cause up to 15 percent harvest loss, according to Zerbe. "We also know that a closely related Fusarium pathogen causes wilt in tomato."
Zerbe's foundational research could one day help introduce the natural beneficial maize terpenoids into tomatoes to prevent the wilt caused by the Fusarium pathogen, which, if left untreated, can lead to premature plant death.
"This is one of the possible applications we are exploring from a proof-of-concept perspective," said Zerbe. "What I hope we'll do in the next year is really understand at the molecular level, how these defenses are regulated and precisely how they impact fungal pathogens."
Zerbe will present the results of his research at the 58th Annual Meeting of the PSNA, which is scheduled to be held in July 2019 in Johnson City, Tenn.
Primary Category
Tags