Survive, Thrive and Communicate: Baskin Award Winner Lynne Hagelthorn Explores the Chemical World of Plants
Quick Summary
Graduating senior Lynne Hagelthorn studies plant chemicals in the Zerbe Lab
She's

co-authored research papers published in

ChemBioChem

,

Plant Physiology

,

PLOS ONE

and

The Plant Journal

.

After graduation, she'll spend the summer working in the lab of Professor Venkatesan Sundaresan before applying to grad school
When Lynne Hagelthorn was in high school, she planned to pursue studying history as a college student. She loved speech and debate and was fascinated by how humans use language to understand and construct reality. But during her junior year, she took a biotech class and through it secured an internship in the lab of Distinguished Professor Richard Michelmore, director of the UC Davis Genome Center. Everything changed after that.
After learning basic lab techniques, Hagelthorn would explore the Genome Center's high-tech facility.
"I'd see like all the posters and the research done and I'd be like, 'This is something I want to do for the rest of my life,'" said Hagelthorn, now a senior majoring in biochemistry and molecular biology.
Throughout her college career, Hagelthorn further indulged her passion for research. She joined the lab of Assistant Professor Philipp Zerbe and toured the world of plant biochemistry, learning how plant chemical compounds can be used to benefit human health. In that time, she co-authored research papers published in ChemBioChem, Plant Physiology, PLOS ONE and The Plant Journal.
Hagelthorn is one of this year's recipients of the Ronald and Lydia Baskin Award, which recognizes a graduating senior for excellence in biological sciences research.
"It feels really fulfilling," she said of the honor. "Attending UC Davis was probably one of the best decisions of my life."
The underlying universality of plant communication
Members of the Zerbe Lab study the various chemicals plants use "to survive, thrive and communicate in a constantly changing environment." Among the hundreds of thousands of these chemicals plants produce, terpenes are the largest group, controlling things like growth or defense against stresses and pathogens. But all these chemicals originate from the same universal precursors.
Hagelthorn's research characterizes how these universal precursors eventually give rise to a legion of diverse plant chemicals. To unravel these biochemical pathways, Hagelthorn and her lab colleagues place plant genes in bacteria like E. coli.
"We're taking different genes that we don't know what they do, putting them in a new organism and seeing what they actually make and how they work," said Hagelthorn. "Plants are much better chemists than we are."
Hagelthorn has collected multiple awards for her dedication to research. In 2017, she was awarded the UC Davis Provost's Undergraduate Fellowship and the American Society of Plant Biologists Summer Undergraduate Research Fellowship.
"I certainly benefited not only from Lynne contributing to our research, but also by her passion and effort in training new students and showing other students the benefits of joining a lab," said Zerbe. "I think her time in my lab is a great example of how volunteering in a lab can be beneficial for undergraduate students, not only to gain research experience, but also to work directly with senior students and faculty to secure fellowships, explore what it is like to be a scientist and mentor, and find out where their career path in the broader science community might lead to."
In their PLOS ONE study, Hagelthorn and her Zerbe Lab colleagues examined genes from Isodon rubescens, a Chinese medicinal plant that's "been used to treat respiratory and gastrointestinal bacterial infections, inflammation and malignant tumors."
"It has potential uses in anticancer pharmaceuticals," said Hagelthorn, noting that researchers are particularly interested in a chemical compound called oridonin due to its antitumor properties.
While mapping the biochemical pathways Isodon rubescens uses to produce compounds like oridonin, Hagelthorn and her colleagues discovered a previously unknown terpene in the plant called nezukol. In other plants, the terpene is known for its anti-oxidant properties.
"We knew that compound existed, but we didn't know it existed in Isodon," said Hagelthorn.
This teasing apart of plant biochemical pathways is the basis for drug discovery. By defining and mapping these pathways, scientists, like Hagelthorn and Zerbe, can uncover new compounds beneficial in the fight against the deadliest human diseases.
For Hagelthorn, participating in this space between curious exploration and basic science application is what makes studying biology worthwhile.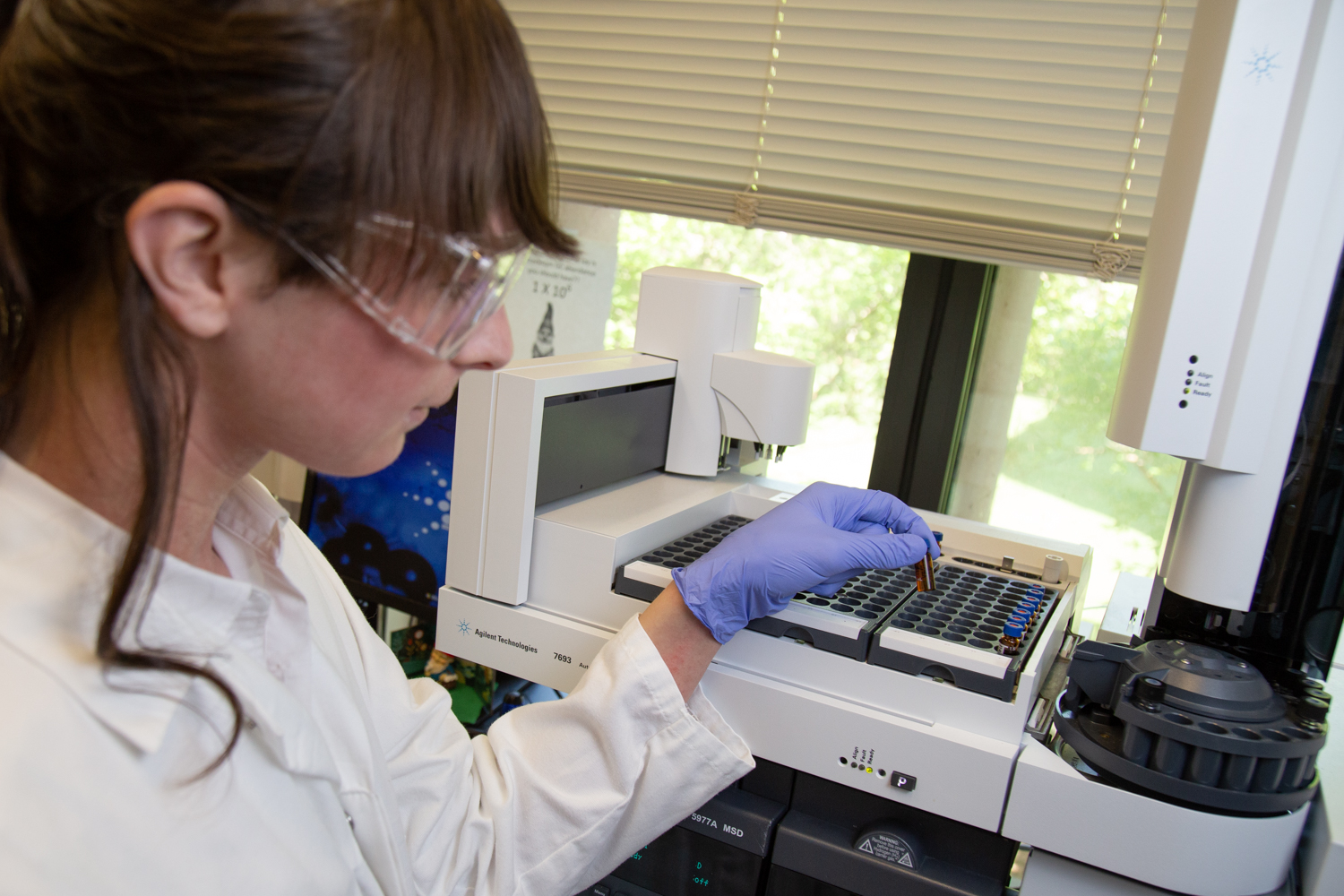 Dreams of a place like Davis
Outside of the research lab, Hagelthorn stays actively involved in the broader UC Davis community. She's tutored chemistry at the Academic Assistance and Tutoring Centers, volunteered as a debate coach with a local high school and is involved in the LGBTQIA community.
"I come from an LGBT community, where like a lot of my friends can't afford their day-to-day meals because they were disowned by their families and are off on the streets," said Hagelthorn. "Davis is a very welcoming place for LGBT people."   
Fostering such an inclusive environment is critical to the scientific endeavor. Diverse viewpoints prompt new questions and can lead to innovative solutions to problems that were previously never considered. 
"It's incredibly disheartening to never see people like you in science," said Hagelthorn. "It means a lot when you can meet or look up to someone like you because it reminds you that you can also hopefully accomplish enough and be in that position as well."
"I was very lucky, very privileged to be here and like be in the position that I was," she added. "A lot of my friends are not that fortunate but they have dreams of being at a place like UC Davis."
Following graduation, Hagelthorn will take a gap year to work in the lab of Professor Venkatesan Sundaresan, Department of Plant Biology, before applying to graduate school. She's set her sights on places like the University of British Columbia, located in Vancouver. "They have some really cool terpene work," she said. "After that, I'm going to pursue a J.D. for biotech patent law."
When asked what advice she'd give to UC Davis students interested in research, Hagelthorn recommended not being afraid to reach out to professors if you're interested in their lab. But before that, establish yourself academically first. 
"Get your classes done, make sure you feel comfortable being a student because you're a student first," she said.
"Take it one step at a time," she added, noting that it's important not to rush and to explore various interests. "You'll get there eventually."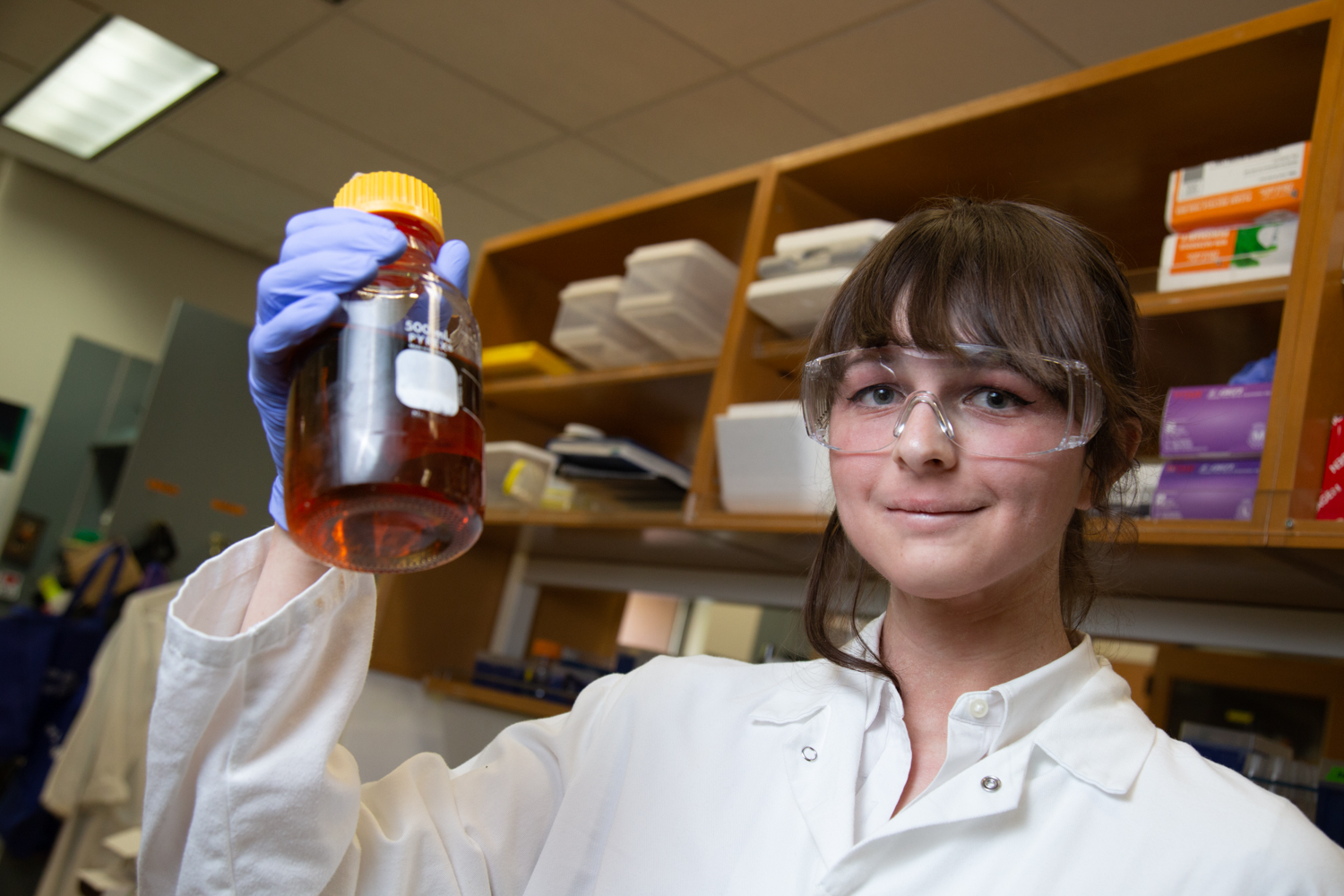 Primary Category
Tags