Kimmel Scholar Award Propels Sean Collins' Immune Cell Cancer Research
Assistant Professor Sean Collins, Department of Microbiology and Molecular Genetics, has received a prestigious, two-year $200,000 award that will help advance the use of immune cells for cancer therapies. The Kimmel Scholar Award is given to 15 of the nation's most promising young researchers leading the fight against cancer.
Guiding immune cells to tumors
Collins seeks to understand how immune cells process information, make decisions and respond to threats within the human body. His research explores the basic molecular mechanisms that that allow immune cells to navigate to infection sites.
When there is an injury or infection, our bodies respond by sending specialized immune cells to evaluate and intercept foreigner invaders. These immune cells also help defend the body against tumors. However, in order to fight infections or tumors, the cells must first find the right location in the body, and the path to get there can be complicated.
"By identifying key principals and molecular pieces, we hope to reengineer these processes to direct immune cells to tumor locations," said Collins.
The hope is that by guiding the "seek and destroy" ability of these immune cells, in combination with other therapeutic strategies, they will be able to more effectively target and destroy tumors.
"I've spent most of my career so far focused on understanding basic mechanisms like how a cell processes information about its environment," Collins said, "but this is a new direction to try and apply some of those findings in a direct, medically-relevant way to help develop strategies for cancer therapy."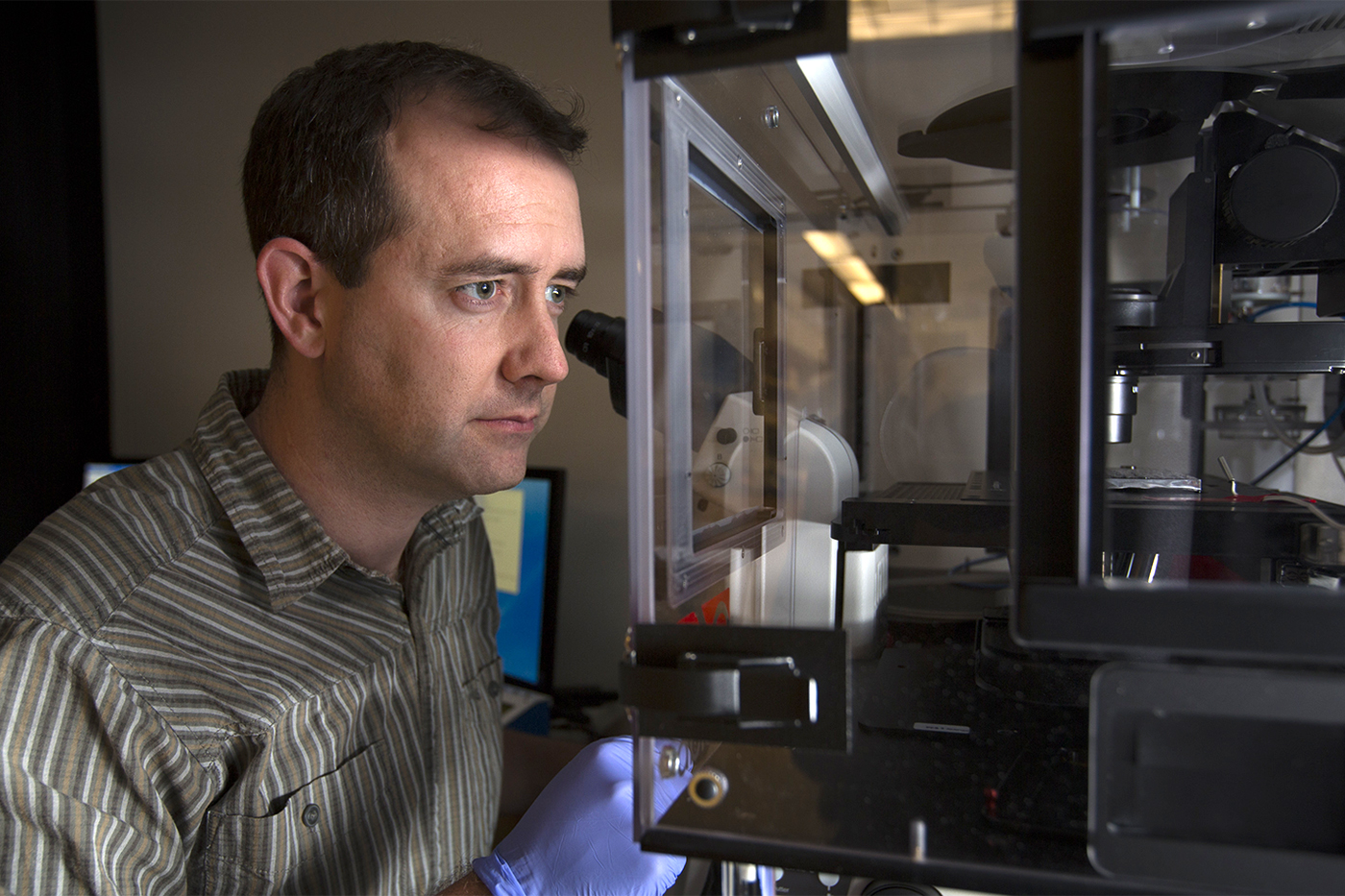 From sports statistics to cell biology
Professor Wolf-Dietrich Heyer, Department of Microbiology and Molecular Genetics chair, recognizes Collins as a rising star with a bright future. "Professor Collins' work is an elegant combination of cutting-edge cell biology paired with rigorous quantitative analysis and creative mathematical modeling," said Heyer. "His focus on immune cells will provide the underpinning for novel approaches in harnessing the body's immune system in anti-cancer therapy."
Collins' interest in science grew from a childhood fascination with solving problems. "At some level, it started with an interest in computer programming and statistics in sports," he said.
As a child, Collins and his twin brother were big sports statistics buffs, and would play sports simulation games on the computer. One day, their game malfunctioned, displaying a cryptic error message. So the two brothers spent the next few months figuring out how the game worked and eventually fixed it.
The Kimmel Scholar Award is sponsored by the Sidney Kimmel Foundation, which has funded more than 260 cancer researchers since its founding in 1993. Collins is the second researcher from UC Davis to be honored with this award, after Professor Ken Kaplan, Department of Molecular and Cellular Biology in 2001. 
Primary Category
Tags